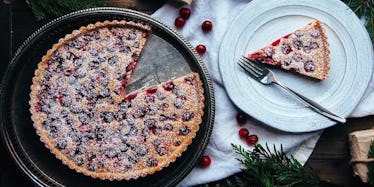 27 Desserts That Will Make Your Holiday Season Even Sweeter (Photos)
Recipe: Hint Of Vanilla
Christmas is right around the corner, so you know what that means.
'Tis the season to bake cookies, build gingerbread houses and stuff you face will all sorts of tasty treats.
While most people tend to focus on the gifts under the tree, I normally have my sights set on the table.
The dessert table to be exact.
Yep, when comes to eating my way through Christmas day, I try to stick to the four main food groups: candy, candy canes, candy corns and syrup.
Because let's face it, everyone knows calories don't count on Christmas.
But before you settle for a piece of that sh*tty fruit cake your Aunt Betty brought over, you should know there are all sorts of festive cookies, cakes and confections out there that will blow your f*cking mind.
So in order to help you make the most out of destroying your diet this season, we set out to find a bunch of mouthwatering desserts guaranteed to make your holidays merry and bright.
Take a look at the pictures below to see all the insanely delicious desserts you need to eat this season.
Gingerbread Cake with Cinnamon Frosting
Mini Eggnog Cheesecakes
Chocolate Covered Strawberry Christmas Trees
Chocolate Peppermint Holiday Cake
Melting Snowman Cookies
Gingerbread Cupcakes
Santa Hat Brownie Bites
Vanilla Bean Christmas Sugar Cookies with Whipped Buttercream
Red Velvet Oreos
Cranberry Orange Frangipane Tart
Rudolph Cookies
Gingerbread Eggnog Bars with Cream Cheese Frosting
Peppermint Macarons
Grinch Cookies
Peppermint Mocha Cookies
Gingerbread Spiced Marshmallows
Polar Bear Cookies
Peppermint Red Velvet Cake Roll
Gingerbread Cheesecake Cookie Cups
No Bake Chocolate Pomegranate Tart
Candy Cane Brownie Trifles
White Chocolate Dipped Cranberry Oatmeal Cookies
Eggnog Cupcakes with Spiced Rum
Candy Cane S'mores
Hot Cocoa Cupcakes
Christmas Tree Meringues
Sparkling Cranberry White Chocolate Cake