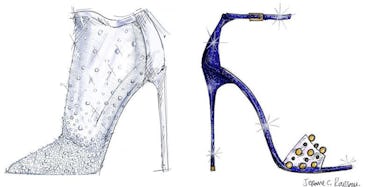 Designers Gave Cinderella's Classic Glass Slipper A Modern Makeover (Photos)
Every girl knows the right pair of shoes can change your life.
Don't believe me? Well, just ask Cinderella.
One minute she's mopping dirty floors. The next, her fairy godmother hooks her up with a fabulous pair of glass heels, and all of a sudden, she's the most sought-after single lady in the kingdom.
Unfortunately, dating isn't like it was back in Cinderella's day, so you're probably going to have to kiss a lot of frogs before you come across your Prince Charming.
But it might not hurt to take a break from Tinder and go on a quest to find the perfect pair of shoes.
Don't get me wrong, both boys and shoes will probably end up hurting you, but I'd rather endure a few blisters over a broken heart any day. Plus, no man will ever make you feel as good as the moment you slip on a shiny, new, expensive pair of stilettos.
Recently, Disney had nine fashion designers create their very own version of Cinderella's stylish glass slippers in honor of the upcoming remake of the iconic movie.
From blinged-out Stuart Weitzman booties to sparkling Salvatore Ferragamo stilettos, these magical recreations of Cinderella's famous shoes are simply stunning, and they blur the line between high fashion and fairy tales.
But wait, it gets better.
Thanks to this high-fashion Dinsey collaboration, all of these incredible shoes will be available for sale in stores such as Saks Fifth Avenue, Galeries Lafayette (in Paris) and Harrods (in London).
I guess dreams really do come true. (But instead of coming in the form of love, they come in a size 7.)
Take a look at the pictures below to see these happily ever after heels.
Nicholas Kirkwood
Jimmy Choo
Paul Andrew
Jerome C. Rousseau
Alexandre Birman
Charlotte Olympia
René Caovilla
Salvatore Ferragamo
Stuart Weitzman