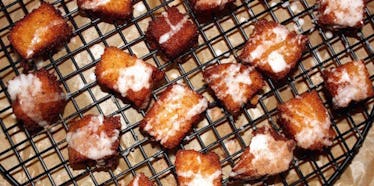 This Insane Deep-Fried Eggnog Defines All Of Your Holiday Food Goals (Photos)
When it comes to the best holiday foods, eggnog tends to be at the top of the list, alongside Christmas cookies and peppermint bark.
But, you know what's even better than turning up with some spiked eggnog?
Getting in the spirit with some deep-fried eggnog, of course!
That's right. You can now have your eggnog and eat it, too, because Oh, Bite It! created the holy grail of holiday spirits by deep frying your beloved boozy eggnog and smothering it in rum frosting.
All you have to do is throw on your ugliest Christmas sweater, follow the step-by-step directions graciously provided on Oh, Bite It! and voilà!
Within no time, you'll have a plate full of delicious deep-fried eggnog guaranteed to put grandma's rum balls to shame.
Take a look at the pictures below for a closer look at these amazing treats.
Oh, Bite It! just blew my mind...
...by creating the ultimate dessert of the holiday season.
That's right. Deep-fried eggnog is now a real thing...
...and it looks delicious AF.
To make this bad boy at home, you'll need pound cake, eggnog, powdered sugar, rum, nutmeg and some oil for frying.
First, cut the pound cake into 1-inch cubes.
Then, soak the cubes in lots of eggnog.
After the soaking is done, deep fry the cubes until they're golden brown and set them aside on a paper towel.
While the cubes are cooling, make the icing by simply combining the powdered sugar and rum.
Then, drizzle your eggnog nuggets in the rum glaze...
...and sprinkle them in nutmeg while the glaze is still gooey.
Then, all you have to do is wait for the glaze to set on those glorious little treats...
...and you're good to go!
You now have a mouthwatering snack sure to make you extra merry this Christmas.
Citations: Deep-Fried Eggnog Is The Seasonal Beverage You Didn't Even Know You Wanted — RECIPE (Bustle), ~Deep Fried Eggnog…Glazed with Rum! (Oh, Bite It!)