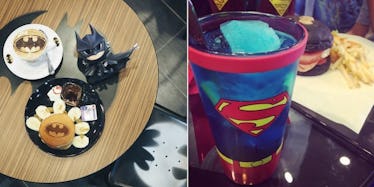 DC Comics Cafes Are Everything Batman And Superman Fans Could Ever Want
You know that issue of "Batman" where Bruce Wayne walks out of Wayne Enterprises midday, skips over to the local burger joint and slowly enjoys a value meal?
No?
Well, that issue may not exist, but for you die-hard Batman and Superman fans, the time has come to immerse yourselves in DC culture while enjoying a side of fries.
A duo of DC Comics-themed cafes in Malaysia, one in Kuala Lumpur and another in Johor, are making yummy dishes marked with the logos and colors of superhero faves like Wonder Woman and classic villains like the Joker.
Superman ice cubes? Check.
Black burger buns with a bright, toasty Bat-Signal? Check.
Menus with comic book layouts? Batman pancakes? Hawkman egg and turkey roll burgers? UH-DOY! CHECK, CHECK, CHECK!
If you aren't up for a full meal but you still want to be included in the fun, relax. There's a ton of tasty beverages with the DC theme.
Malaysia, in a world full of wrong, you're doing something right.
Citations: The Dark Knight satisfies your hunger at DC Comics cafes in Malaysia (Mashable)