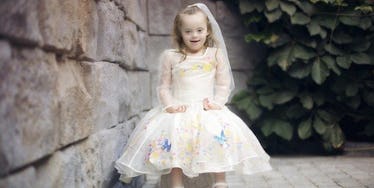 Little Girl With Down Syndrome Poses In Magical Disney Princess Photos
Many little girls dream of becoming Disney princesses, but for most, the fairytale fantasies never make it past playing dress up.
But, this isn't the case for a 4-year-old named Giselle.
Aside from being a beautiful toddler with Down syndrome, Giselle also has the coolest mom ever.
Giselle's mother, Kristina Bewly, is a Florida-based photographer who works with special needs children.
After visiting Disney World for the fist time in September, Kristina set out to create an incredible visual series transforming her adorable daughter into stunning Disney princesses.
They visit the theme park once a month, and Kristina photographs Giselle's playful adventures throughout the magical kingdom as she takes on the identity of a new Disney character with a costume Kristina makes herself.
I'm not trying to be biased, but I think my daughter is beautiful. I think she's as beautiful as any other 4-year-old. I just want her to be treated the same way.
All of Giselle's enchanting photos are nothing short of incredible, and this gorgeous little girl proves being different only makes you more beautiful and unique.
This is Kristina Bewly and her adorable daughter, Giselle.
 Giselle was born with Down syndrome.
But, this 4-year-old never lets that get in the way of following her dreams...
...and playing dress-up as different fairytale princesses.
Last September, Kristina brought Giselle to Disney World for the first time.
Since then, they've been returning to Disney each month...
...and Kristina makes her daughter a new princess costume to play in each time.
According to Kristina, "This has been a very fun learning experience for us. She's definitely taught us to slow down and savor every moment, and really look into finding the beauty in things."
Kristina captured her amazing daughter as several Disney characters.
 She's been everything from Cinderella...
And Queen Elsa...
To Rapunzel...
 An enchanted pixie...
...and even Princess Jasmine.
Kristina posts her daughter's mesmerizing photos on a Facebook page called Giselle's Garden.
Her whimsical portraits inspire others to follow their dreams...
...and live happily ever after.
Citations: You Shall Go To The Ball! Mothers Enchanting Pictures Of Her Daughter Dressing Up As A Different Disney Princess Each Month (Daily Mail)