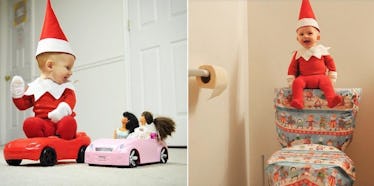 Dad Dresses Up 4-Month-Old Son As The Most Adorable Elf On The Shelf (Photos)
Instagram
If you're into having some holiday fun, there's a good chance you're familiar with "The Elf on the Shelf."
But, you know what's even better than finding a toy elf wreaking havoc all over your house? Discovering a little, real-life elf who makes all sorts of merry mischief, of course.
Recently, Alan Lawrence, the Utah-based father of six and man behind That Dad Blog, set out to turn one of his kids into an Elf on the Shelf IRL.
That's right. He decked out his 4-month-old son, Rockwell, in the signature red elf costume, and the baby elf might just be the cutest thing to ever happen to Christmas.
Alan told the "Today" show,
All of our friends do the Elf on the Shelf and I've always thought it was sort of creepy, but sort of fun – this idea of an elf coming to live in your home and moving around to different places,' Alan told Today. And I'm like, what if it was a real elf? And of course, being parents, we already have the cutest little 4-month-old. So we decided to make a fun series.
Lawrence captured his son doing a variety of elf-inspired activities and posted all of the adorable antics on his impressive Instagram account.
Take a look at the pictures below to see the most precious Elf on the Shelf.
Forget those "Elf on the Shelf" toys.
Alan Lawrence just turned his 4-month-old into a real-life Elf on the Shelf...
...and he looks downright adorable.
Lawrence captured his little elf making all sorts of mischief around the house...
Including ruining everyone's life and cramming a ton of cookies in the VCR...
Turning the toilet into a festive wrapped gift...
TP-ing the tree...
Writing letters to Santa...
Scaring people in the shower...
And sticking to the four main food groups...
...aka candy, candy canes, candy corns and syrup.
Seriously, Buddy the Elf has nothing on this cute baby.
Citations: Dad turns baby into Elf on the Shelf and he's the cutest elf you ever will see (Metro)