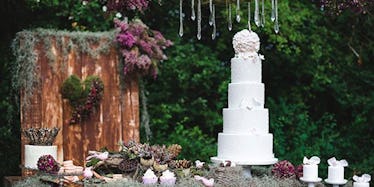 25 Super Creative Wedding Cake Ideas To Satisfy Your Sweet Tooth (Photos)
Your wedding cake isn't just a dessert, it's a part of your décor.
After all that time spent tasting and designing your dream confection, you won't want to skimp on presentation.
Whether you opt for fun linens, a fancy backdrop or an abundance of flowers, decorating a cake display is a great way to reflect your personalities.
Get some inspiration with these ideas.
Canopy
Give your cake a room of its own with a dramatic canopy. Silky, white curtains and a crown of feathers lend a majestic air to this suspended cake.
Wine Barrel
An old wine barrel brings a bit of bucolic beauty when serving as a cake pedestal. Top it off with flowers and succulents.
Artwork
If your reception area features eye-catching art on its walls, take advantage of it as the scenery for your cake. This white cake pops against an ornate blue and gold cherub painting.
Floral Wreath
A wreath of flowers is a subtle and elegant way to add a finishing touch to a traditional white cake.
Balloons
What's more fun than letter balloons? Spell out your and your partners' initials or declare your affection for each other like this cake display does.
Mirror
Give your guests a 360-degree view of your cake by placing a mirror behind it. This regal mirror shows off this classic cake's dainty white bows.
Tulle Skirt
Tulle isn't just for your wedding dress — it can also add some flair as a table skirt. Top it off with a sequin tablecloth for a full princess effect.
String Lighting
Whether you opt for fairy lights or bulbs, string lighting will twinkle and shine to illuminate your cake.
Cloche
Encase your cake in a cloche to add a bit of whimsy and charm.
Woodland Setting
This woodland setting is straight out of a fairytale and enough to make all your dreams come true.
Chandelier Cake
Flip things upside down — literally. This dazzling chandelier wedding cake is sure to command attention as the centerpiece of the room.
Spool
An oversized wooden spool as a cake table has both vintage and rustic charm.
Floral Tablecloth
Your tablecloth doesn't have to be made of just linens. Lush white blooms grace this tabletop, cascading into a garland skirt in pure elegance.
Crystals
Whether suspended as a mobile or surrounding the cake as a veil, dazzling crystals add a touch of glitz and glam.
Greenery
Suspended wreaths of fresh greenery and a sequined cake table balance rustic and glamorous vibes.
Dresser
Add some character to your display by using an antique dresser as a table. An oversized wooden heart pendant echoes this dresser's delightfully worn elements.
Cylinder Pedestal
Clear glass cylinder vases housing fuchsia blooms make for an interesting cake pedestal.
Arbor Structure
Take a cue from nature — an arbor structure houses this wedding cake while a wreath of twigs and grass-covered table skirt serve as a platform for a rustic feel.
Crates
Wooden crates are a handsome choice for a cake display and can be as elaborate as they are simple; stack them as high or low as you wish.
Suspended Cake
A suspended cake has a magical effect, especially when overlooking the sparkling ocean. We love how ivy and white petals dress up this swing.
Custom Backdrop
Fashion a backdrop of your own that contrasts with the surroundings to really make your cake stand out. This dark and dreamy setting screams dramatic, autumn romance.
Writing Desk
A vintage writing desk, lush blooms and candles create a Victorian-inspired look.
Arch
A rustic wood platform and crystal chandelier complete the display for a shabby-chic look.
Cage
A delicate cake inside an antique cage is perfect for a garden wedding affair.
Gold Bottles
Mix and match textures and elements for a stunning effect. Spray-painted gold wine bottles, feathers, a brick wall and wood carvings combine for a glamorous display.
More from Bridal Guide:
10 Mistakes Brides Make When Dress Shopping
Beyond Flowers: 50 Unique Ideas for Your Centerpieces
100 Sentimental Wedding Ideas You'll Love
By Hillary Hoffower for Bridal Guide