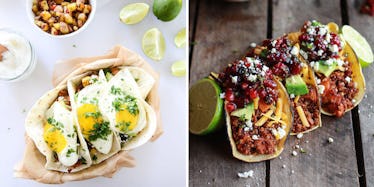 25 Deliciously Creative Ways To Take Your Taco Game To The Next Level (Photos)
When it comes to the greatest inventions of all time, tacos are right up there with pizza and the lightbulb.
My feelings for tacos run pretty deep.
In fact, Taco Tuesday is probably my favorite day of the week, not to mention, the only reason I make it through the work day on Mondays.
In addition to being insanely delicious, one of the things that makes tacos so amazing is that these south-of-the-border snacks are extremely versatile.
From crispy fish tacos and spicy meat renditions to tortilla shells overflowing with all sorts of seasonal veggies and tasty toppings, the taco possibilities are pretty much endless.
Plus, you can basically taco-ize any meal of the day by just throwing your favorite foods into a tortilla.
Seriously, it doesn't get much easier than that.
So in order to help you expand your taco horizons, we grabbed our sombreros and set out to find a bunch of badass taco recipes that are so good, they basically taste like a fiesta in your mouth.
Take a look at the pictures below to see 25 next-level ways to eat tacos.
Loaded Huevos Rancheros Tacos
Banana Greek Yogurt Protein Pancake Tacos
Chorizo and Fried Egg Breakfast Taco
Churro Breakfast Tacos
Breakfast Tacos with Fire Roasted Tomato Salsa
Asian Chicken Sriracha Tacos with Cabbage Cilantro Slaw
Pomegranate Glazed Skirt Steak Tacos with Pickled Red Cabbage and Spicy Gauc
Surf N Turf Tacos
Caramelized Pork Tacos with Pineapple Salsa
Banh Mi Tacos with Spicy Sriracha Honey Sauce
Coconut Shrimp Tacos
Mexican Short Rib Tacos
Chipotle Quinoa Sweet Potato Tacos with Roasted Cranberry Pomegranate Salsa
Jerk Shrimp Tacos with Pineapple Salsa Slaw and Pina Colada Crema
Buffalo Chicken Tacos
Roasted Cauliflower and Lentil Tacos with Creamy Chipotle Sauce
Sweet and Spicy Salmon Tacos with Mango Salsa and Avocado Lime Crema
Boozy Beef and Butternut Squash Tacos
Green Scallop Tacos
Crispy California Roll Tacos
Strawberry-Raspberry Nutella Dessert Tacos
Banana Split Tacos
Mini Fruit Dessert Tacos
Homemade Choco Tacos
Apple Pie Tacos