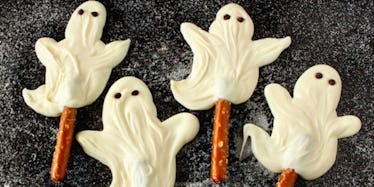 20 Crafty Homemade Halloween Treat Recipes To Soothe Your Sweet Tooth (Photos)
With Halloween right around the corner, it is imperative we figure out our candy plans before it's too late.
Why settle for your average bag of assorted Halloween candy on sale at your local pharmacy? After all, this is Halloween we're talking about...
You know, the week-long excuse to eat sweets like there's no tomorrow.
Aside from dressing up and drunkenly venturing out to Halloween parties for a week straight, Halloween is all about the sweet treats!
Need a creative way to use your leftover treats?
Below are 20 homemade Halloween treat recipes to sooth your sweet tooth.
Warning: You may not want to share any of these with any trick-or-treaters! 
Popcorn and Marshmallow Brain Balls
White Chocolate Ghosts on Pretzel Broomsticks
Deep-Fried Candy Bars
Sprinkled Candy Apples
Marshmallow Peep S'mores
Hershey Kiss Acorns
Dark Chocolate-Covered Pretzel Screams
Sugar Skulls
Cookies and Cream Rice Krispies Treats
Gooey Monster Cookies
Nutella and Oreo Witch Hats
Frankenstein Cookies
Twix Bars
Halloween Candy Bark
Nutella S'mores
Halloween Cookie Pizza
"Poison" Toffee Candy Apples
Candy Bar Pie
Candy Apple Kebabs
Pumpkin Krispie Treats