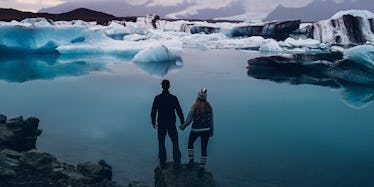 This Couple Ditched A Big Wedding For A Small, Romantic One In Iceland (Photos)
Troy Moth
Getting married is supposed to be one of the most memorable experiences of your life.
However, weddings aren't cheap, and even a modest reception will put quite a dent in your wallet. If there's one couple who knows this, it's Jeremy and Rachelle Garrett.
Instead of going with a traditional wedding, these two decided to spend their hard-earned cash on the trip of a lifetime and tied the knot in Iceland.
Within no time, these two were thousands of miles away from home and living out of a van as they trekked through Iceland's glaciers, explored waterfalls and waded through hot springs in search of the perfect place to exchange vows.
After traveling around much of the country, Jeremy and Rachelle knew they had finally found the perfect spot.
After exchanging vows these newlyweds hopped back in their van and continued on their expedition as husband and wife.
Luckily, Jeremy and Rachelle hired photographer Troy Moth to follow them around afterward and capture the special moments they shared during their travels.
All of their photos look absolutely incredible, and if you ask me, their journey sounds a lot more fun than eating sh*tty reception hall food and watching your relatives dance for three hours.
Take a look at the pictures below to see their amazing trip.
Instead of spending thousands of dollars on a wedding reception...
Jeremy and Rachelle decided to find a better use for their money...
...and tied the knot during an epic trip to Iceland.
Just a few weeks after making the decision, these two packed their bags and headed abroad.
They lived out of a van as they ventured around the country in search of the perfect place to get married.
After climbing over glaciers...
Exploring magnificent waterfalls...
And taking a pit stop at the hot springs...
These two stopped horsing around...
...and finally came across the perfect place to exchange vows.
They read each other vows in front of an old church that had been spared in a volcanic eruption.
Photographer Troy Moth accompanied Jeremy and Rachelle on the latter part of their journey...
...and captured some pretty amazing adventures along the way.
Their Iceland expedition looks so incredible, it might just convince you to embrace your wanderlust and ditch the normal nuptials.
Citations: Couple Decides Not To Have A Traditional Wedding And Travels To Iceland Instead (Bored Panda)