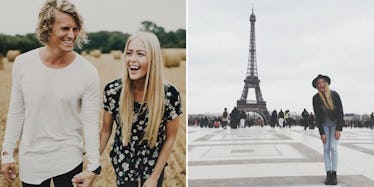 This Couple Takes The Most Breathtaking Travel Pictures You'll Ever See
There's no better person to travel the world with than your soulmate.
Meet Samuel and Hildegunn Taipale.
After tying the knot, this Finnish-Norwegian couple set off on grand adventures to some of the most beautiful places in the world.
But that's not all; these lovebirds also take some seriously impressive photos showing all the breathtakingly beautiful places they come across during their travels.
Their snapshots of snow-capped mountains, majestic waterfalls and stunning Scandanavian skies are absolutely incredible, and their epic Instagram photos will certainly put all of your "hotdog legs on the beach" pictures to shame.
Samuel and Hildegunn Taipale aren't your ordinary couple.
Aside from being gorgeous newlyweds...
...these two travel the world together.
And they take Instagram photos that look just as good as they do.
When they aren't admiring the scenery at home...
They're going on amazing adventures...
Conquering majestic mountains...
Posing in ice caves...
...and visiting Scandinavian fishing towns that look they're straight out of a storybook.
You know, just practicing my tree pose on a tightrope. NBD.
Being married never slows these two down.
They can be found just hanging on a beach in the Pacific...
Taking in the sights at Big Sur...
Trekking through Iceland...
Walking through a winter wonderland...
Stopping for a snapshot in the Temple of Apollo...
...or scoping out the caves in Utakleiv Beach.
Their adventures prove these two aren't afraid to live on the edge...
And let their spirits run free...
...as they reach for the stars together.
Citations: This Coupleu2019s Jaw-Droppingly Gorgeous Travel Photos Will Inspire Wanderlust (Design Taxi)