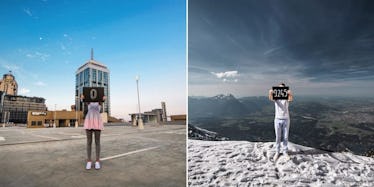 Couple Quits Jobs To Pack Up And Spend A Year Traveling The World (Photos)
Like most people with wanderlust, I often get the urge to quit my office job and explore the world.
Unfortunately, my bank account and my dog usually remind me to calm the f*ck down and watch the Travel Channel instead.
It takes a special kind of person to leave everything behind in the pursuit of an epic adventure. And Stevo Dirnberger and Chanel Cartell are two of these people.
Recently, this South African couple ditched their advertising day jobs, packed their entire lives (and cameras, of course) into four suitcases and set out on an awesome year-long journey around the world.
We were no longer feeling challenged; we needed something that would charge the electrolytes running through our veins.
The theme of their travels is "How Far From Home," and since jetting off on March 2, these two have been snapping some impressive Instagram pics with signs showing how many kilometers they are from Johannesburg.
Take a look at the pictures below to see their incredible "How Far From Home" project.
Meet Stevo and Chanel.
After quitting their jobs, they grabbed their cameras and set out to see the world.
Their traveling project documents how far they've gone since leaving their home in Johannesburg, South Africa.
So far, they've made it to Abu Dhabi, which is 3,910 miles away from home...
5,169 miles away from home in Werfen, Austria...
5,190 miles away from home in Mattsee...
...and 5,195 miles away from home in Salzburg.
They've seen everything from castles in Austria...
...and Burg zu Burghausen...
...to star lit skies in Eugendorf...
...sunsets in Seekirchen...
...street art in Germany...
...and Ferris wheels in the Prater amusement park.
They've even been 5,392 miles away from home in Vienna...
5,633 miles away from home in Burghausen, Germany...
5,655 miles away from home in Anif, Austria...
5,698 miles away from home in Hintersee...
5,727 miles away from home in St. Gilgen...
...and 5,745 miles away in the mountains of Untersberg.
It's not hard to see each passing mile brings them closer together...
Citations: This Couple Quit Their Advertising Jobs To Travel The World For A Year (Design Taxi)