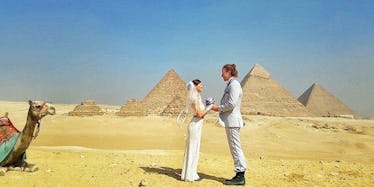 Couple Gets Married In 38 Different Places Around The World In 83 Days (Photos)
Choosing the perfect place to tie the knot with the love of your life can be a pretty hard decision.
And Cheetah Platt and Rhiann Woodyard couldn't pick just one place.
After Cheetah proposed to Rhiann last year, these two performance artists couldn't decide whether they wanted to go with a traditional church wedding, get married on a beautiful beach or exchange vows in an exotic locale.
So, they did what any adventurous couple would do: They decided to get married all over the world and planned to exchange vows 38 times in 83 days.
After booking their worldwide flights for less than $3,000 per person, they set out on an epic wedding journey. Since the beginning of February, these two have held ceremonies in Colombia, Spain, Ireland, Egypt, Kenya, India, Thailand and Morocco.
They plan on visiting all of the continents, besides Antarctica, before finally returning home to have several more weddings with their family in friends in the United States.
According to Platt,
I knew this was going to be the most incredible wedding experience ever. It was exactly what I wanted, to travel the world with my wife and marry her again and again and again in so many different ways. That was perfect for me.
Take a look at the photos below to this couple's incredible wedding journey around the world.
Meet Cheetah Platt and Rhiann Woodyard.
These two aren't your average newlyweds.
On February 8, they set off for their first wedding destination.
Platt and Woodyard plan on tying the knot on (almost) every continent.
Since the beginning of their incredible journey, they've exchanged vows in Bogotá, Colombia...
The Colombian rainforest...
Madrid, Spain...
...and several spots in Ireland.
While in Ireland, they posed with the standing stones of Boleycarrigeen...
...and Glendalough Cathedral.
They also had a ceremony in Mumbai, India...
The Ajanta Caves...
...and Cave 16 in Ellora.
These two decided they would wear white for the entire trip.
Whether they are standing in front the Alcázar of Segovia..
Tying the knot in Bangkok, Thailand...
Holding a ceremony in front of some seriously impressive architecture...
 Or hosting their wedding in an African village...
...you can be sure all of their wedding photos are simply breathtaking.
They've also exchanged vows in front of the Egyptian pyramids...
In Essaouira, Morocco...
Segovia, Spain...
...and in Kenya.
Plus, they even made time to hang out with wild wedding guests before jetting off to the next place on the list.
Citations: Couple Gets Married Around The World, Holds 38 Weddings In 83 Days (Design Taxi)