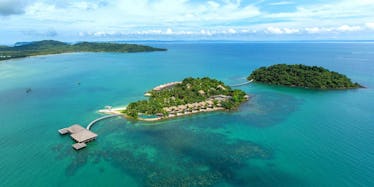 This Couple Was Able To Buy A Dream Island In Cambodia For Just $15,000 (Photos)
How do you plan on making your mark when the time comes?
One Australian couple is making headlines after sharing their inspiring story with the world.
Melita Koulmandas Hunter and her husband, Rory, moved to Cambodia in 2005. Rory had business obligations in Phnom Penh.
After Rory fulfilled his obligations, the pair was supposed to move to New York in 2006, but that didn't happen.
Instead, they were offered a private island 18 miles off of the coast by Cambodian locals who wanted a change in their environment. The asking price? Just $15,000.
It doesn't stop there. Melita planned to build a resort on the island.
However, two years after purchasing it, she was diagnosed with cancer.
Despite the couple's setback, they got back on track and built a 27-villa resort called Song Saa for the world to enjoy.
Check out the photos below for a closer look!
Meet Melita Koulmandas Hunter, her husband, Rory, and their son, Naryth.
Back in 2006, the couple purchased a private island offered to them by locals while they were visiting.
Today, the island flourished into a luxurious, award-winning resort called Song Saa.
The panoramic views are absolutely breathtaking from every angle.
The island features 27 private villas.
At a steep rate of $869 per night, you can live like royalty during your stay.
The Hunter family also has a great story!
Rory was relocated to Cambodia for business for a year.
That's when Cambodian locals looking for a change in their environment spotted the Hunter family and offered them the island.
The Hunters were able to secure a 99-year lease with the national government since Melita was already brainstorming the possibility of a resort.
Not only did the island turn into the Song Saa resort, but deep-pocketed buyers can purchase villas for $600,000 to $1.75 million.
Before it flourished into a private paradise, Melita was diagnosed with cancer.
Despite the setback, the Australian couple picked up where they left off and offered a private sanctuary to the world.
And to think this all started with just $15,000.
Citations: The mother who was offered an Island for 15000 while traveling in Cambodia and is still running the bargain property as a luxury resort 10 years later (Daily Mail)