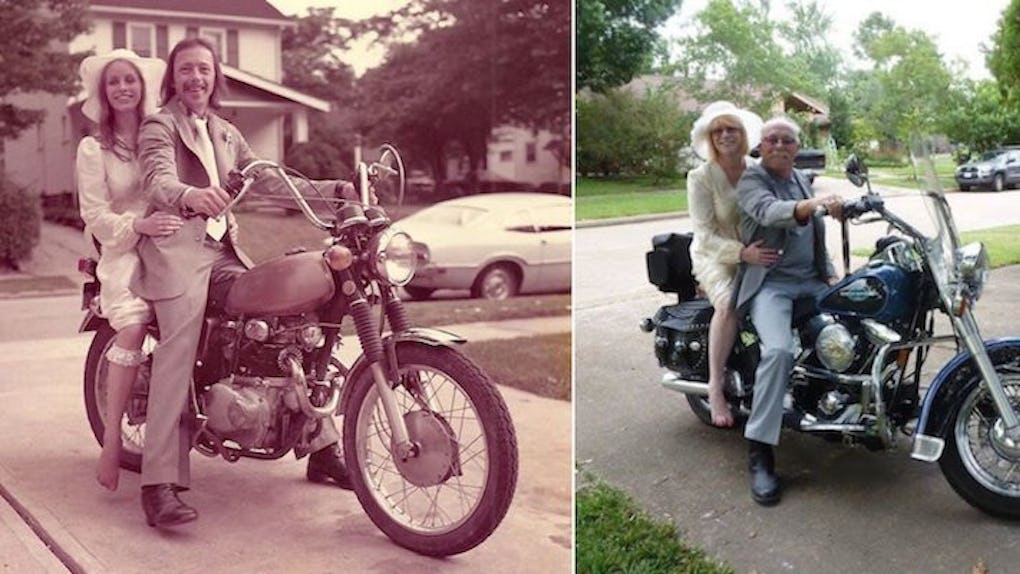 Imgur
Couple Celebrates Anniversary By Flawlessly Recreating Wedding Photos
True love never fades, no matter how much time passes by.
On July 12, one creative couple recently set out to celebrate their 40th wedding anniversary by bringing the memories of the big day to life once again.
The couple recreated several photos from their wedding in 1975, and it's not hard to see these two are just as crazy about each other now as they were back then.
Their child, who goes by the username magic976, uploaded the endearing images to Reddit.
Magic976 also gave us some insight on how this love story all began, sharing how his or her parents first laid eyes upon each other in a bar called The Lower Level.
If that's not enough to make your heart melt, magic976 also revealed his or her crafty mom actually made both her wedding dress and her husband's jacket.
But if you ask me, the most impressive thing about this couple is they still fit into those same clothes 40 years later.
I guess some things, including their waistlines, really haven't changed.
To celebrate their 40th wedding anniversary, one couple decided to relive the big day...
...by recreating all of their wedding photos from 1975.
Their child shared the touching anniversary photos on Reddit with the caption, "Some things never change."
According to the Redditor, the couple first met in a bar, where his or her smooth father approached his future wife and said, "You wanna Boogie?"
She obviously said "yes," and from there, the rest was pretty much history.
And 40 years later, they're still together. Now that's impressive.
Citations: Couple Mark 40th Anniversary By Perfectly Recreating Their 1970s Wedding Photos (Metro )