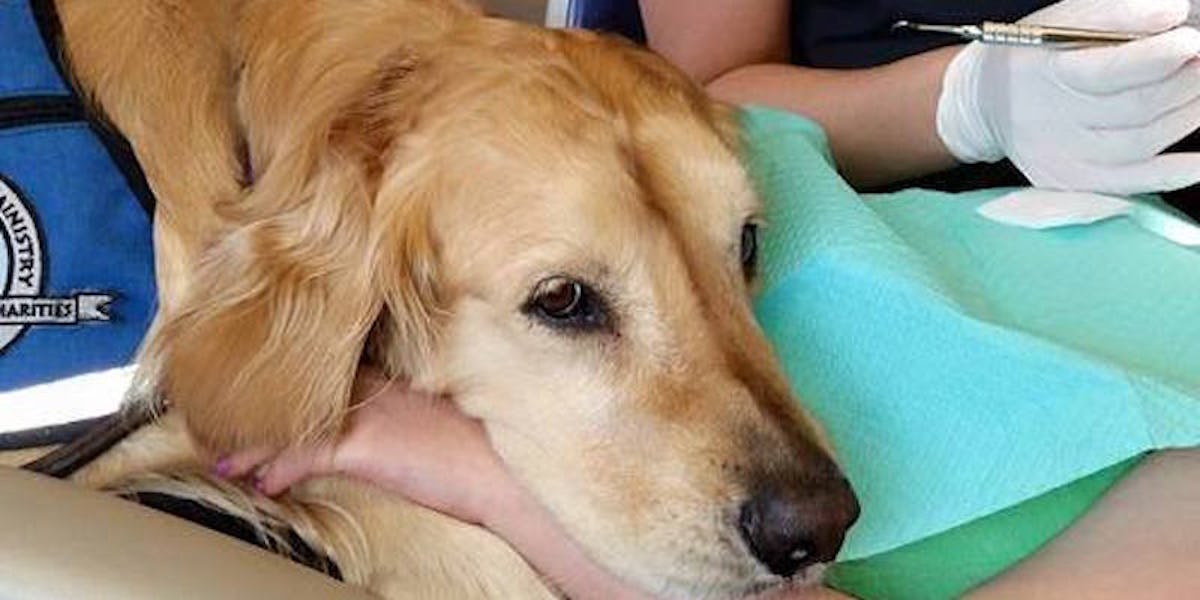 This Adorable Dog Works At A Dentist's Office To Comfort Scared Patients
Let's be real, no one actually likes going to the dentist.
But unfortunately, getting our teeth checked out is something we all have to suck up and do on the reg, no matter how scary or unpleasant we may find the experience.
If you happen to be one of the many people who dread going to the dentist, I have some good news for you. We just came across one dentistal office that uses an unusual approach to calming your nerves.
Meet JoJo the dental nurse.
JoJo isn't your average dental nurse. She's actually a 6-year-old golden retriever and trained comfort dog who works alongside Dr. Paul Egger and Dr. Thomas Resnick as a doggy dental nurse at the Pediatric Dentistry of Northbrook in Illinois.
JoJo's dental endeavors all began after her handler, Lynne Ryan, came up with the idea of using a comfort dog to calm young patients and help them get through their dental procedures.
Clinical staff member Veronica Renteria told The Dodo,
A lot of the time, those patients would need nitrous oxide or [another] sedative to help them relax. But when JoJo comes in with them and sits in the chair, they're comforted. They can just sit and pet her as they're getting their teeth cleaned. She does a great job with them.
Take a look at the pictures below to see this adorable dental nurse.
Say "hello" to JoJo.
JoJo may look like your average dog, but this golden retriever is actually a trained comfort dog...
...who works in a dental office!
That's right. This cute pup works alongside dentists as a doggy dental nurse.
JoJo has a calming effect on her patients and helps them relax during their procedures.
Her handler, Lynne Ryan, explained, "JoJo had to be trained to get used to all the different noises in a dental office, like the sound of the drill and the suction."
She continued, "But now, she gets up on the chair and reclines on children's laps."
JoJo is clearly an important part of the team, and this adorable dog is even listed as an official staff member on the office's website.
Plus, JoJo's doing more than just making a difference for her pediatric patients.
One of the clinical staff members, Veronica Renteria, told The Dodo, "She's very well trained and knows what she's doing. We all benefit from her so much."
Citations: This dentist has a four-legged dental nurse who helps calm nervous patients (Metro)