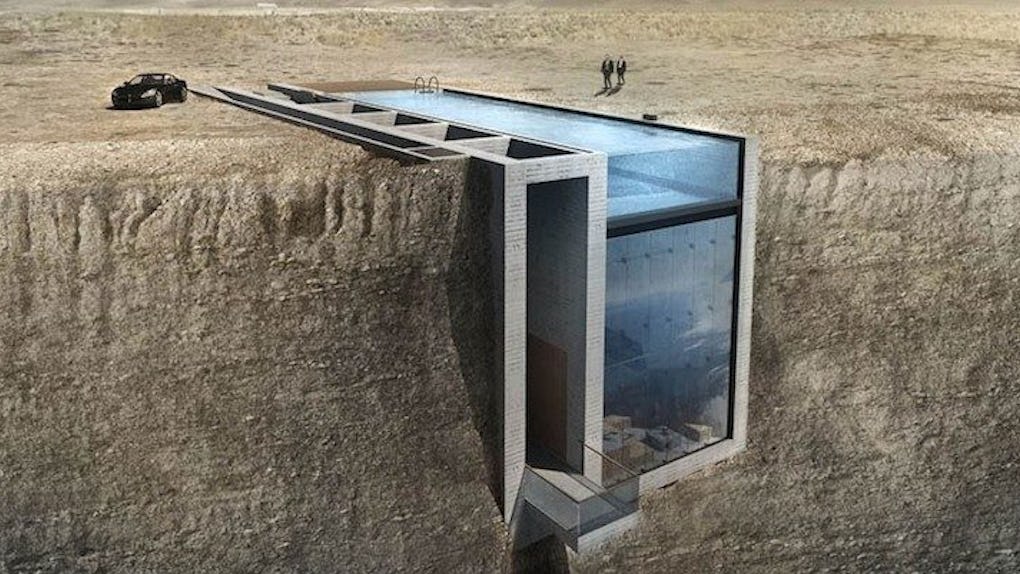 Facebook
This One-Of-A-Kind Cliffside Home Is Not For The Faint Of Heart (Photos)
When we saw the $1.1 billion underground bunker in Germany, we thought we had officially seen it all.
However, it turns out there is another home that's equally mindblowing.
This particular home design is called Casa Brutale.
At first sight, you'd think it was something out of a James Bond movie!
Casa Brutale is the brainchild of Laertis Antonios Ando Vassiliou and Pantelis Kampouropoulos, the architects behind OPA Works.
It features a stunning rooftop pool that's actually a ground-level pool, depending from where you are looking.
The description on the OPA Works website reads,
The underground building benefits from a perfect homeostatic mechanism with thermal insulation from the surrounding ground, and the cooling properties of the swimming pool. The optical impact of the building on the landscape is minimal, with only one façade on the cliff side and no volume extruding from the ground level.
If you had dreams of one day owning your very own underground lair, this is probably what you'd want it to look like!
Check out the photos below for a closer look!
Behold, Casa Brutale.
As you can see, the ground-level pool sits on top of the home.
Once you enter the house, the pool turns into a rooftop pool.
Most of the home is made out of concrete, which gives it a really rough, but sleek, overall look.
Residents and guests have breathtaking views of the clear, blue sky. Beautiful, isn't it?
All that's visible from the roof is this crystalline pool created with reinforced glass.
But from the front of the property, you'd think James Bond was hiding out and planning his next top secret mission!
Citations: This House Hidden In A Cliff Has Amazingly Terrifying Views Of The Sea (Bored Panda)