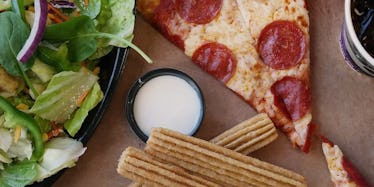 Chuck E. Cheese's Just Introduced A New Menu Geared Toward Millennials
Ladies and gentlemen, or boys and girls, rather, Chuck E. Cheese's is no longer "playing games with [your] food!"
That was the promise made to loyal Chuck E. Cheese's customers in recent news surrounding the chain's attempt to reinvent its food menu. I mean, it couldn't just rely on pizza forever, you know!
Well, actually, it might be able to. After all, Chuck E. Cheese's did beat Pizza Hut in a national taste test for pizza. But, anyway!
According to Foodbeast, the company will be introducing a mac and cheese pizza in October, in addition to its slew of new menu items previously introduced.
Other new dishes, which are available now, include churros, boneless wings and regular thin-crust pizzas.
And to top it all off, Chuck E. Cheese's came up with this brilliant tagline:
We're not playing games with our food anymore.
As if things couldn't possibly get any better, the chain will only offer the mac and cheese pizza for a period of time before replacing it with another limited-time menu item.
So, if you're looking for a reason to hit up Chuck E. Cheese's, this might be it.
But, I'd wait until October! How could you pass up mac and cheese-topped pizza?!
Citations: Chuck E. Cheese's New Millennial Menu Has A Mac & Cheese Pizza (Foodbeast)