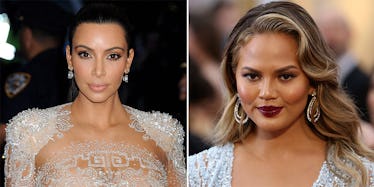 10 Celebrity Wedding Dresses That Are The Definition Of Timeless
REX/Shutterstock/Reuters
Every bride looks like an absolute princess on her wedding day. But, it's clear that some brides completely nail it, creating an overall exceptional look that is elegant, breathtaking and timeless.
When a bride can pull off a wedding day look that still defines spectacular years after her big day, it's safe to say she crushed her bridal ensemble in a way not everyone does.
Slay brides, slay!
Great designer? Maybe so. Impeccable taste and a magnificent eye for a wedding gown? You know it!
A timeless bride creates a look that she can rock effortlessly on her wedding day, and that same look still makes a statement for years to come.
These celebrity brides crushed their wedding day looks:
One of my all-time fave wedding gowns was that of the late Carolyn Bessette.
I mean, come on. Look at her amazing gown designed by Narciso Rodriguez. It screams stunning and elegant, especially with white gloves as her finishing touch. No one could rock this look like she did.
Kim Kardashian looked effortlessly elegant and breathtaking on her wedding day with her long-sleeved gown.
Her custom-made gown was designed by Riccardo Tisci, the creative director at Givenchy.
Kate Moss pulled off this very whimsical, untraditional gown by John Galliano.
Her dress was embellished with rhinestones, which made it even more of a stunner.
Portia de Rossi looked like a queen when she tied the knot with Ellen DeGeneres.
The open back on her gown is to die for. She wore Zac Posen on her big day.
It's a rarity for Kate Bosworth not to look absolutely gorgeous.
Her wedding day was no exception in her Oscar de la Renta gown. This boho dress truly set the tone for her barn wedding.
Don't even get me started on Kate Middleton's gown.
She looked like such a class act on her wedding day, dressed in a Sarah Burton gown. The lace arms on her long-sleeved dress definitely went down in the fashion books.
My girl Chrissy Teigen's Vera Wang gown is another one of my favorites.
It looked perfect in front of the backdrop of Italy's Lake Como, and it was complete with an elegant, long veil.
Anne Hathaway's Valentino gown was complete with a headpiece and long veil.
She truly looked like a trendsetter in this off-the-shoulder dress. Her look was seriously anything but basic.
Megan Fox looked like a beach goddess in her strapless wedding gown by Armani Prive.
Her wedding day style is the ultimate look for tying the knot on the beach. And let's be real: What better location to say "I do?"
Amal Clooney made such a statement on her wedding day, dressed in Oscar de la Renta.
She's such a fashion icon, and her off-the-shoulder gown highlighted French lace.