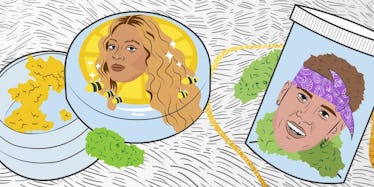 Celebrity Kush: What Your Fave Celebs Personal Pot Strains Would Be Called
Ashley Lukashevsky /The Kind
Roseanne Barr, Whoopi Goldberg, Wiz Khalifa, and a slew of other celebrities have legitimately begun to cash in on the rising marijuana industry.
Soon, having a branded strain or line of weed related products will be just another arm of each celebrity empire.
Before the deluge of punny cash-in products is upon us, let's have some fun and imagine what the basic dispensary shelf will look like any day now...
Beyoncé's "Bey Honey Extract"
This THC infused honey extract is meticulously made with care by the tiny hands of thousands of well-paid, youthful and happy workers.
Spike Lee's "Spike Lee Joints"
Pre-rolls from the cinematic master himself. "Here, have a Spike Lee joint."
"Spaced-X" by Elon Musk
This super sativa was hyper tested in Musk's top secret research and development labs and will get you higher than a f*cking rocket.
Justin Bieber's "Purple Purpose"
A re-branded purple kush sold as concert merch during his recent Purpose tour.
The Mindica Project by Mindy Kaling
A mellow indica strain that supports hospitals or something, not really sure what that show is about.
"Kimdawg" and "K Kush" by Kim K. and Kanye
Two highly branded and highly drab strains for the Kardashian fan in your life.
Judd Apatow's "Frat Snacks"
A line of medicated munchies for the Greek set.
Lens Flare by "JJ Abrams"
An overhyped sativa.
Drake's "Potline Bling"
Each 1/8th comes with a tiny little gold necklace and a small piece of paper that has an excuse for you to drunk dial someone.
This post was originally written by Alan Hanson for The Kind.
Citations: New Celebrity Weed Strains To Make You Feel Famously High (The Kind)