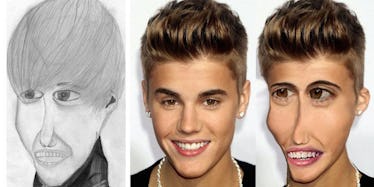 If Celebrities Looked Like Their Sh*tty Fan Art, They'd Be Terrifying (Photos)
Imgur
Art can be a great way to pay tribute to your favorite celebs.
However, not everyone is a natural-born Picasso when it comes to creating a star-studded masterpiece.
A while back, we showed you a bunch of botched celeb drawings that were so bad, they were actually good.
But have you ever wondered what your favorite Hollywood stars would look like if they actually resembled their horrible fan art?
Well, the answer is quite simple -- hilarious and a bit scary.
After finding the worst examples of celebrity fan art in the existence of the Internet, some clever Redditors set out to give some of the biggest stars a serious Photoshop makeover inspired by these downright dreadful illustrations.
From a wide-eyed Daniel Radcliffe and a seriously botched Justin Bieber to a lopsided, google-eyed Robert Pattinson and a simply scary-looking Tom Cruise, these strange-looking Photoshopped celeb faces are nothing short of hysterical.
It's a good thing these slacking artists aren't plastic surgeons, otherwise the red carpet would be a terrifying place.
Take a look at the pictures below to see celebs that look like their fan art.
Angelina Jolie
Daniel Radcliffe
David Schwimmer
George Michael
Justin Bieber
Mel Gibson
Robert Pattinson
Tom Cruise
Tom Cruise, again.
Zayn Malik
Citations: LOL: What If Celebrities Looked Like The Badly Drawn Fan Art Of Them (Design Taxi)