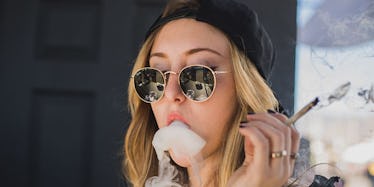 Meet The Stoner Chicks Who Showed Up And Smoked Out At The 'Cannabis Cup'
Michael Paredes of Drastic
When it comes to getting blazed, nothing compares to the Cannabis Cup. It's literally the Super Bowl of weed with only one big difference: Everyone leaves a winner!
High Times brings the culture to multiple cities every year, including Denver, Portland, Michigan and even Jamaica, all to find the best damn bud.
Of course, an event like this brings stoners out from all walks of life. You've got the hardcore potheads who weren't doing sh*t anyway, the closet smoker dads still trying to be low key, the cannabis connoisseurs competing to win the cup and, of course, the lovely, yet ratchet, stoner chicks.
At this year's Southern California Cannabis Cup, we saw all these motherf*ckers in one place and it was quite the scene.
But if you're like me, you're in it for the sexiest strains, so here's the best of the stoner chicks who showed up and blew down!
The Cannabis Cup is the only time of year you'll find like-minded individuals all in the same spot...
Because who likes smoking alone?
Only here will you find squads of ganja girls ready to assist you.
Even if you think you see a solo dolo stoner chick...
Chances are, she brought a friend!
Of course, no two stoner chicks are the same...
But some of them are truly on some other sh*t.
These pot princesses don't really care what you think about them. They're going to smoke their weed and sip their drank, regardless!
Whether she's ripping a bong...
Or taking a dab...
You're realistically still not going to bag, my friend.
Because if you're looking for love, you came to the wrong place.
But hey, if you're into tatted chicks, this is paradise!
After all, this is the Cannabis Cup and it's all about crowning whoever has the most magical strain.
And that person usually gets all the stoner girls to himself!