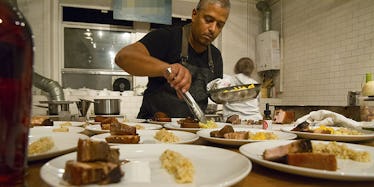 This Chef Makes Stoners' Dreams Come True With Cannabis Cuisine (Photos)
We've all had a terrible edible experience at least once in our lives.
Fooled by the awesomeness of the treat, you eat the whole damn thing and end up getting way too high. I'm talking about the way-too-high-to-be-outside-right-now type of high. That sh*t ain't fun, man.
Miguel Trinidad is the man who's changing that. As head chef and owner of NYC's first Filipino gastropub, Jeepney, he's reinventing the edible game with marijuana meals that will blow your mind.
Breaking the mold of the super intense edible experience you might've had in the past, he's offering dishes normally not associated with edibles and providing you with a comfortable high.
With a steady increase in dosage over every course, it's similar to sipping on wine as opposed to taking shots, which ultimately leaves you feeling like you smoked a joint to the face -- pretty lit.
According to Chef Miguel, he partnered with the soon-to-be edible brand 99th Floor Dinners to curate cannabis cuisine that is as much about the food as it is about the atmosphere.
Anytime you go out to eat, it's an escape. You work hard all day, all week and eating out is a way to unwind, enjoy the company of friends and take our minds to a different place. We drink wine and spirits with our food both to enhance the flavor, but also to help enhance that unwinding. So we look at cannabis the same way -- we're bringing you this five course meal, this multi-hour unwinding, and we're taking you on a journey both with the food and with the atmosphere.
We were invited to a private event where we got to try the curated cannabis cuisine for ourselves.
Course One: Tomato soup, onion cream, basil crisp
Course Two: Farmers market salad, beet vinaigrette
Course Three: Potato gnocchi, roasted shitake, lardons, kale, demi glaze
Course Four: Humba (pork belly), Israeli couscous, poached vegetables, toasted garlic
Course Five: Sour Chem wax infused coconut milk chocolate ice cream, toasted hazelnut, raspberry coulis
The first four courses contained a blend of Green Queen, Dream Queen, Lemon OG and Sour Diesel.
With marijuana infused into every ingredient of every dish, the preparation process is unique for each course.
We use different techniques, from making cannabutters to using extracts to make oils to decarboxylating cannabis to make tinctures. Oil and agave infusions and canna sugars are also some of the different preparations used in some of our meals.
The dessert was a different process. According to Chef Miguel, "We made it with a Sour Chem wax, and when it combined together, the Sour Chem went from this bright, sour flavor profile to tasting like cinnamon."
He continued, "Food is a living art. Every day we are discovering new ingredients, cannabis strains and cooking techniques."
"The cannabis industry is doing so much to advance its extraction methods, its growing methods and to understand the various cannabinoids..."
"...taking that and bringing it to food will just allow so much more to be done."
"There are over 85 different cannabinoids in cannabis and more being discovered all the time. We're still learning how they all work and how they work in connection with each other."
"In 20 years, we might be able to really take our food experiences to new levels by focusing on strains with different ratios of different cannabinoids, for pain relief or for recreational use."
"It's really limitless, and we're just scratching the surface."