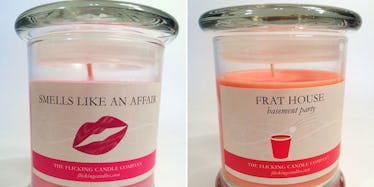 Candles With Hilarious Names Will Bring Back Your Worst Memories (Photos)
When it comes to finding the perfect scented candles for your home, the options are pretty much endless.
You can go with the more traditional aromas like ocean breeze or apple cinnamon.
Or you can take the path less smelled and opt for a unique scent that brings back memories of your extramarital affair or your poor fantasy football picks.
Remember when we showed you all of those comical candles made by the Flicking Candle Company?
Well, they're at it again with a new slew of awesome scents that will bring back all of your awful memories.
That's right, these guys aren't filling your house with the smell of freshly baked cookies or clean cotton.
Instead, they give their wax an extra dose of reality by creating a bunch of hilarious and cleverly named scents that perfectly capture all of life's most unfortunate moments.
According to Flick Candles,
We're the only candle company in America brave enough to celebrate the fresh scent of failed marriages, ruined friendships, rejection, criminal activity, unprotected sex, and unexpected weight gain.
Once you get a whiff of these awesome candles, you'll never go back to buying those boring scents from Yankee Candle.
Because, let's face it, who in their right mind would want to settle for the scent of plain old vanilla when you can up your aroma game and fill your home with a little Foreclosure French Vanilla instead?
Take a look at the photos below to see the new hilarious scented candles.
There's nothing like the scent of eviction mixed with a hint of homelessness.
A delicate scent of beer mixed with a bit of vomit and cigarettes will bring you right back to your college days.
Nothing captures the scent of a family that's falling apart like a little Gingerbread Broken Home.
The Nicotine Pumpkin candle will really warm your spirits when you finally decide to quit smoking cold turkey.
This candle smells so good, it might just make you bend over and cough twice.
Ahh... the lovely aroma of lies, cheating and deception.
Rumor has it, there's going to be a special Valentine's Day edition of this lonely scent.
Nothing beats the distinct odor of defeat mixed with a few notes of beer and buffalo wings.
Citations: Flick Candles Smell Like One Night Stands, Foreclosure And Frat House Basements (Huffington Post )