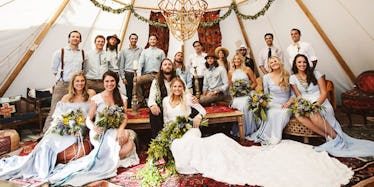 This California Festival Wedding Gives Coachella A Run For Its Money (Photos)
The title kind of gives it away: We're questioning everything we ever thought fascinating about Coachella after laying our eyes on this epic California "festival" wedding.
Sure, Coachella has good music, trendsetting style, communal camping and a pretty great vibe, but wouldn't it be better to strip away all of its less-than-stellar aspects and party exclusively with your family and friends?
We think so. And that's exactly what Brit (founder of the boho wedding dress line Daughters Of Simone) and Jeff did for their killer "middle of nowhere" wedding.
Brit spilled all the details for their feature on Green Wedding Shoes, including why finding a sprawling location in the great outdoors meant everything to the two of them.
Since we both love camping, not just at festivals but in general, we wanted to incorporate this aspect most of all. We thought it would just be the coolest thing to be under the stars with all of our favorite people the night before our wedding. No buildings, no traffic. Just natural beauty, golden sunsets and fresh air.
See how Brit and Jeff threw their very own mini-festival wedding that'll make you wonder if Coachella is worth all the hype.
For guest lodging, an array of tents from Shelter Co. -- decked out with beds, down comforters, stylish lounges and vintage rugs -- encircled the area where the wedding festivities would take place.
The bridesmaids each worked alongside Brit to design custom, dusty blue Daughters Of Simone bridesmaid dresses.
Brit kept her dress design ideas top-secret (for years!) until it was time to start working on her beautiful, boho-inspired masterpiece.
For the ceremony, the couple wanted a "circle of love," so they designed a Swedish Maypole tent, allowing for unobstructed mountain views and a strong sense of connection as they recited their vows.
Under Canvas Events provided giant event tents (aka "boho cabanas") for the reception, which the team at PowWow filled with pillows, Moroccan lanterns, stacks on stacks of vintage rugs, poufs and candles galore.
Here's a closer look at the decorated tents that allowed Brit and Jeff's guests to experience the outdoors like they never had before: inspired and totally comfortable.
And no festival fête could ever be complete without a 70s-inspired macrame hammock.
Guests grabbed drinks (like the signature Firecracker and Fernet Me Not) in yet another teepee-esque tent decked out with wicker shelving, hanging lanterns, candlelight and giant pampas.
A wildflower-topped naked cake was a natural choice for Brit and Jeff's eclectic, nature-filled day.
It's okay to admit you're jealous these two pulled off a handmade, better-than-Coachella celebration that can only be described as the wedding of a lifetime!
Wedding photography: Feather Love // special photography + videography: Asher Moss // night special photography: Matt Castanos // wedding decor design + wedding coordination: PowWow // bride's dress + bridesmaid dresses: Daughters Of Simone // band + music: BROTHERS // hair: Hallie Lopes, O'Neal Gouveia // power, lighting, dance floor + sound: Event ProWest // tents + bathrooms: Under Canvas Events // dj: Psychedelic Warlord // sleeping tents: Shelter Co. // florals: Coarse Gold Flower Shop // dress patterns: D & E Customs // drone footage: Enrique Meza – Meza Films // catering: Pardini's Catering