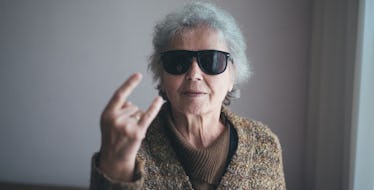 Caitlin Kelly Previews Her Debut Swim Wear Collection
Stocksy
On Wednesday, June 6, Caitlin Kelly previewed her debut Spring/Summer 2013 collection on the rooftop of TF Cornerstone's 2 Gold Street in the heart of Manhattan's Financial District. Caitlin Kelly is an FIT graduate and an emerging designer in luxury swimwear.
Her fashion experience is diverse, including swimwear design for Badgley Mischka and mens swimwear designed for Target. After a brief tenure at AH Schreiber, Caitlin accepted a position as Head Designer for Aerin Rose Swimwear in 2011, where she debuted her designs at the Miami swim show that same year.
The line was very well-received; so much so that the owner of Jordan Taylor Inc. offered Caitlin the opportunity of a lifetime: the chance to create her own self-titled label of high-end swimwear. The result of this opportunity is the collection that was shown in New York City that night.
The line features convertible bikinis, monokinis, and chic one-pieces with accompanying cover-ups, as well as men's trunks, using fabrics imported from Italy and Canada and manufactured in New York.
"I'm really excited to have debuted my collection last night," says Kelly. "I feel like I've just woken up from the most amazing dream, but my dream came true and I'm truly blessed. Standing backstage and seeing each piece walk down the runway can only be equated to watching your child ride the bus to school for the first time."
Next up, you can find Caitlin Kelly  officially showing her collection at the the MBFW Miami Swim Show at the Miami Convention Center in July, 2012.
Was fashion your first career aspiration?
I knew from a young age that I was drawn to the arts and fashion. Prior to college, I took every fashion course I could at FIT and RISD. After graduating from FIT and having studied fashion in Italy for a year as well, I knew that this was the path I was meant to be on.
 Describe your fashion line – what about it differs from other swimwear lines?
My line is divided into four groups. "Maritime" is a new take on the nautical look with a navy burnout lace and gold lurex contrast.  Subtle details such as grommets and lacing add the final touch to complete the looks. "Saraswati" is a very soft neutral crochet stretch over contrasting black. " Morgandy" is a subtle textured but very soft fabrication focusing on the body and how the suit can complement a figure with an avant-garde touch. "Naima" is a solid grouping that I let the nature of the fabric speak for itself. The drapes and folds create a look that flatters the body, allowing a woman to feel sexy in a sophisticated way. Many of my pieces are convertible or have unique unexpected detail such as a plunge back or deep V-front. Each group has a relative cover up that can be worn day to night. There really is something for everyone in the collection. Above all, I wanted the main focus of the collection to be the fit and quality of the garment.
The fashion business is considered one of the most cut-throat industries. What do you plan on doing to succeed?
I've experienced firsthand just how "cut throat" the world of fashion can be, and understandably so. Everyone wants to make a name for themselves. Having seen the ugly side, it really reinforces the fact that you have to treat people the way you wish to be treated. A friendly environment equals a successful future. Staying true to who I am and my vision for my brand will allow for a successful longevity. I want the pieces I create to be more than just another name on the rack.
Do you plan on branching out of just swimwear? If so what other lines are you interested in pursuing?
I'm a dreamer and I'm always being told I have "big shoulders." I take on what may seem impossible to others. For right now, making a name for myself in the swimwear industry is my main focus. I'm not just another name in passing – my brand is here to stay. It will hang with the heavy hitters in the industry, but I believe that you have to start somewhere and give it your all. Naturally I would love to add on and mold this into a lifestyle brand, but for right now I really want and need to deliver a quality product. So this is where my heart is.
Who is your favorite designer and why?
Issey Miyake, hands down. His ability to create wearable works of art is outstanding. That inspired me to treat each piece that passes from my hands to the consumer as if they were purchasing a work of art.
Where do you see yourself 5, 10 years from now?
If you asked me this question 5 years ago, I would have never thought I would be where I am today. The people we meet and the experiences we have form our future. It's the toughest question to answer. However, I see myself as a staple in the stores I'm targeting. I see the continuation of Caitlin Kelly Designer Swimwear for men and women, with the addition of a contemporary swim line and children's swim line. I also see myself starting a family with my amazing husband!
Elite.