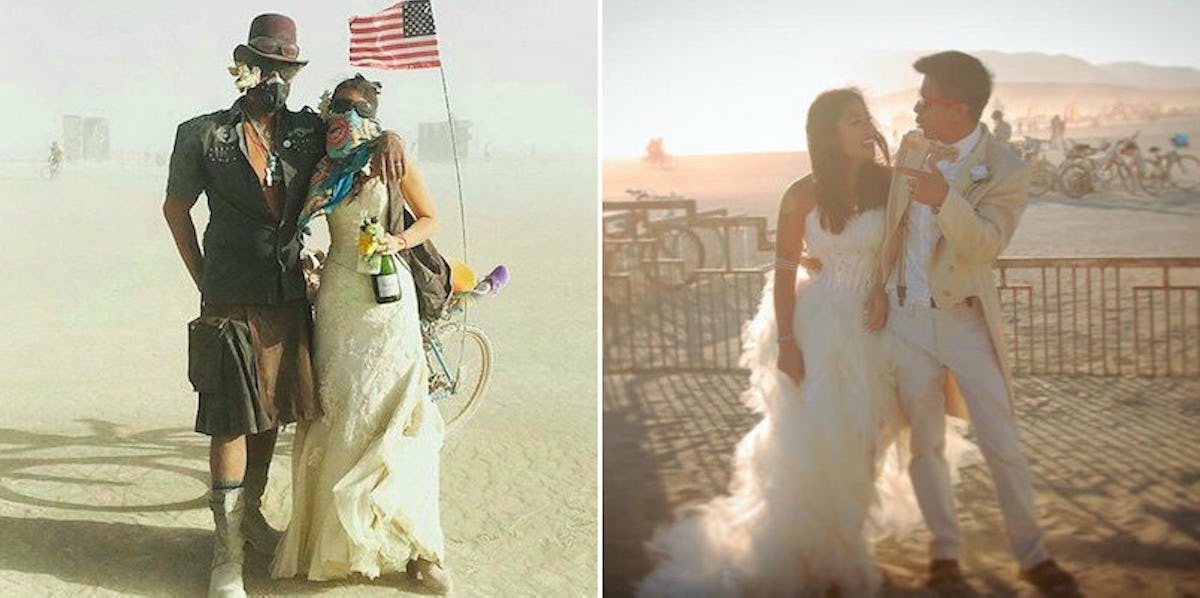 These Burning Man 'Brides' Are All The Style Inspo Your Boho Wedding Needs
If you're on the prowl for some serious boho wedding inspiration, look no further than the mystical grounds of Black Rock Desert, aka Burning Man.
As if we aren't already suffering from enough festival FOMO, couples are now getting "married" in the Nevada desert, and the ceremonies are insanely beautiful.
The vows are exchanged every year on Wedding Dress Wednesday -- a celebration organized by festival goer "Princess" in which couples, friends or singles can get "married" in the middle of Burning Man.
And, yes, I did say singles because at Burning Man, you can even marry yourself.
Of course, these marriages aren't lifelong, and there is a mandatory "divorce" rule for when the festival is over. But why not join the fun and glam up for a fake wedding of your dreams at one of the coolest festivals in the world?
Plus, these brides and grooms are drop-dead gorgeous and perfect style icons for anyone hoping to have a free-spirited, hippie-chic bohemian wedding.
Between the vintage dresses, the lace and the flower crowns, you really can't go wrong.
#Goals.
Can't go wrong with a white tux.
Gold accents are key.
We can't forget about the flower crown.
A little pop of color never hurt anyone, right?
They make combat boots glamorous AF.
Sequins and lace. Need I say more?
For all the single ladies...
SLAY.
If I were planning a marriage any time soon (wishful thinking, I know), there's no doubt I'd look up to these Burning Man babes for style inspiration.
Talk about a fairytale.
Citations: USA Today