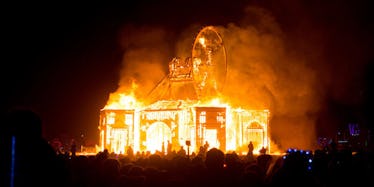 These Are The Wildest Pieces Of Art And Cars We Saw At Burning Man
Sepp Dasbach
Burning Man is an enigmatic festival, and if you've never been, it's especially hard to grasp the scene in Black Rock City.
It's a week-long showcase of art, music, workshops and unregulated human nature in the middle of a desert that life forms don't typically inhabit.
The festival also seems to be all about contrast, both man-made and environmental. The daytime climate is fickle, ricocheting from hot and dry sunshine to harsh dust storms, known as whiteouts, that limit your sight to 10 feet in front of you.
You experience everything to a physical degree you've likely never been pushed before and, as a woman who looked to be in her mid-60s commented as we sat perched on a giant gramophone, the weather "forces you to be present."
Friday at sunset, an 80-piece symphony played here.
You're on your toes -- or more literally, the tip of your bike pedals -- pushing against wind that wants to throw you back and soft patches of sand that want to trap your wheels.
But that's what Burning Man is all about: being present. Making every moment and interaction more meaningful than you do in everyday life.
Every second should be special because life is a beautiful thing, and Black Rock City slams its gate on society's standards (aside from the laws; those still apply).
You have to be more aware of your surroundings than ever before as thousands of people whiz past you and structures appear out of thin air.
And when you finally make it to one of the creations and hop off your bike, your experiences with the art become personal.
At traditional museums, you're merely a viewer and guest, pushing up against enforced boundaries. Burning Man makes art approachable and valuable in the least conventional ways:
1. It's fleeting; by the end of the week, the structures and pieces will either be burned or transported elsewhere.
2. You're invited to touch, climb and discover the art using multiple senses, and there are no plaques on site giving analyses or details about the artists (you can look up more information online if you're interested).
At night, the playa transforms into a massive, bright-neon carnival where art cars are mobile DJ stages that hypnotize crowds of costume-clad, free-spirited adults.
From day to night, the festival's paradoxes are further accentuated.
During the day, you feel like you're in the clouds as you bike around the hot playa; by night, you're on a cold Mars, enthralled by the most incredible lights you could never imagine.
We traversed the playa -- which is a few miles long -- probably 1,000 times trying not to miss a thing, so here are the wildest pieces of art and art cars we managed to see:
This was the Man pre-burn...
...and here was mid-burn.
The theme of this year's festival was DaVinci's workshop, so under the Man were a bunch of rooms that offered different workshops, like glassblowing and drum making, as well as experiences like sound baths.
The Temple's stoic aura was a stark contrast to the Man's.
As some of the highest structures to climb, these lighthouses gave you an incredible view of the vast playa.
Over 3,000 stained glass panels made up this humpback whale and her calf.
If you were able to climb this spiked art piece, there was only a small perch at the top.
A deranged clown probably built this eerie Ferris Wheel.
The back of DaVinci's face was open so you could walk in and "explore his mind."
We came across some giant gorillas...
...and an Automatic Taco Machine that dispensed Nature Valley bars with snarky quips like: "Get used to disappointment."
But how could you be too disappointed when it dispensed any food at all?
At night, some of the art cars became illuminated...
Helping to light up the otherwise pitch-black night...
...blasting music and carrying dancing riders throughout the playa.
During the day, you could see the art cars a little more clearly...
...but the light shows at night were pretty spectacular.