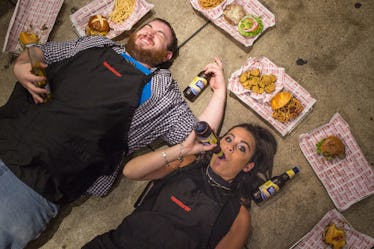 These Two Millennials Helped Create The Perfect Burgers For 20-Somethings
I don't think there's anyone who loves burgers more than my good friend, Eitan, and I do. We're two of the happiest, hungriest meat-lovin' eaters on the planet. Give me a plate of chicken fingers, and I'll go HAM. Cook up a rack of lamb, and I'll devour it in seconds. Throw an uncooked, questionable slab of beef in front of my face, and I'll force Eitan to try it.
Seriously, when it comes to food, we're all about that protein.
So, when Smashburger hit us up to go behind the scenes and make delicious burgers just for Millennials, how could we say no? If you haven't been, Smashburger a restaurant chain notorious for the special way it cooks its burgers.
I went there once with my dad (LOL ~hot date~), and it was pretty damn tasty. I remember ordering the avocado club and being in heaven.
Mmm, yes, travel back with me. Picture the applewood-smoked bacon, the ranch dressing drizzlin' on that 'cado. (My mouth is literally watering as I type this, and it's not even 9 am.)
WHAT I'M TRYING TO SAY is, Smashburger knows how to make one hell of a patty. Forget grilling; it's all about the smash.
So, on a lovely Monday morning, Eitan and I met with Tom Ryan, Smashburger's co-founder and chief brand officer.
There we are, the three best friends that anyone could have.
Before Smashburger, Tom was the man responsible for bringing McFlurries, The Dollar Menu and McGriddles to McDonald's. Pizza Hut's Stuffed Crust Pizza came from Tom as well. Yeah, the man's a legend.
Eitan and I have pretty impressive backgrounds as well. We're both two dumb 20-something Millennials who don't care about our jobs and drink too much on weekends. What a match made in heaven! Tom had the perfect burgers just for us.
Below, feast your eyes upon FOUR DELICIOUS, MOUTHWATERING SMASHBURGERS MADE JUST FOR MILLENNIALS!
Tom prepared two beautiful brunch burgers, one happy hour burger and, the grand finale, A HANGOVER BURGER. What more could we possibly want?
First, let's check out brunch burger number one, the Organic Arugula Truffle Mushroom Swiss Burger.
The Organic Arugula Truffle Mushroom Swiss Burger was topped with sautéed cremini mushrooms, aged Swiss cheese, baby arugula and truffle mayo on an egg bun.
It was Smashburger's first burger to have an organic topping, and it won the 2015 Menu Master Award for best menu line extension. The burger was an LTO and was launched in July 2014.
CAN YOU HANDLE IT? I DON'T THINK YOU CAN HANDLE IT.
Please, take a closer look. I want nothing more than to make passionate love to this burger.
Now, go get your belly ready for brunch burger number two, the Sin City Burger.
The Sin City burger is available in Las Vegas, but it's also a secret menu item nationwide. It's made with a fried egg, applewood-smoked bacon, American cheese, grilled onions, haystack onions and Smash Sauce on an egg bun.
I asked Tom what's in the Smash Sauce, and he briefly told me. But, um, I forgot. I GUESS IT'LL BE A SECRET FOREVER.
Smashburger shared the story of the Sin City burger because it's near and dear to its heart:
This is a burger that reflects a lifestyle that's part and parcel to Vegas, where residents don't follow the same clock as the rest of America. The hustle and bustle of a 24/7 city takes people out of their eating pattern. The Sin City is an eclectic combination – we're offering breakfast at dinner time and dinner at breakfast. We wanted to match the indulgence of Vegas – hence the name – and the burger is versatile for breakfast or dinner. We consider it a multi-functional meal: lunch for all, breakfast or dinner for some. An egg on a burger isn't traditional, but it's catching on. Smashburger delivers it in a meaningful way.
Here's a close-up shot. I'm actually licking my computer screen just thinking about this bad boy. Come here, baby. COME TO ME.
Next on the list is the happy hour burger, Smashburger's Arizona Burger.
YES, that is guacamole. YUMMY YUMMY IN MY TUMMY.
The happy hour burger is the perfect meal to eat after work when you're getting ready for a night out. It's made with habanero cheese, guacamole, lettuce, tomato, onion, chipotle mayo and fresh jalapeños on a chipotle bun.
Eitan and I literally ate the bun plain because it was just so flavorful. I still have dreams about this entire experience.
The happy hour burger's story is simple. Smashburger told us,
[It] reflects the great taste of the Southwest. They love of all things fresh and spicy. This is the only market in the country where we use habanero Jack. The guacamoles, jalapeños and chipotle bun create layers of classic Southwestern taste.
HELL YEAH, IT DOES.
I hope one day a man will look at me the same way I look at this burger.
Last but not least, we have the hangover burger, Smashburger's Philly Burger.
It's the perfect burger for when your head is pounding and Advil won't do the trick. Next time you wake up still drunk, stuff your face with this cheesy baby and you'll feel like a million bucks.
The Philly Burger is made with grilled onions, Cheez Whiz and Gulden's Mustard on a pretzel bun. Your hands will probably be covered in cheese, but it's totally worth it. Order this burger on a first date if you're looking for long-term love. I promise, it'll make you irresistible.
Oh, and here's this burger's story:
If anybody's ever been to Philadelphia, they know that Philadelphia is known on the food front for a few things, but there are two very popular things there. There are guys selling pretzels on every corner, and there are more cheesesteak shops than anywhere else in the country. [This burger is] a kind of a homage to both of those things coming together in one city. It's basically grilled onions, a double dose of Cheese Whiz (one on the bun, one melted on the burger) and Gulden's Mustard on a pretzel bun. And although it's offered in New Jersey, it's really meant for the Philadelphia market.
THIS IS THE SEXIEST THING I'VE EVER SEEN IN MY LIFE.
All in all, this was a life-changing experience, and I suggest you go to Smashburger ASAP and pig the F out. I guarantee you'll leave with fond memories and a food baby you'll love and cherish forever.
Happy smashing, from our family to yours.