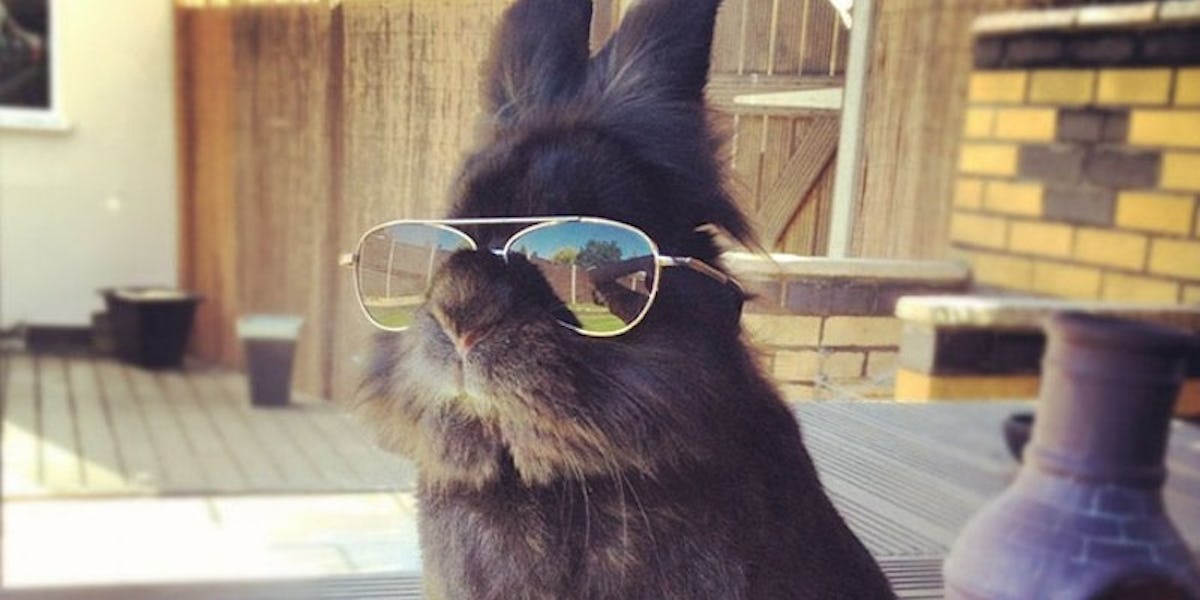 Chill Bunny Wearing Sunglasses Is Cooler Than Any Of Us Will Ever Be
Reddit
Don't you just love animals? I know I do.
Something about them not being as cruel as humans makes me want to surround myself with them all the time. If you don't feel the same way, you need to see a doctor and have your brain examined right away.
You might be DEMONIC. If you are, it's OK. You can be converted back to a decent human being. There's still hope for you...
As a matter of fact, there's this one photo of a bunny wearing sunglasses that is sure to make even the grouchiest human turn into an animal-loving softy just like the rest of us. Prepare your eyes (and heart) for greatness!
Behold a chill bunny wearing sunglasses that you'll never be cooler than -- not even in a million years.
This chill bunny is so chill, the Internet had to spice things up with a full-on Photoshop battle using the badass photo.
Using stills from movies and your favorite TV shows, people got pretty creative with these.
Most of the edits depicted the bunny to be as chill as he looks in the original photo.
Other edits depicted Mr. Bunny to be the badass he probably is in real life.
Anyone down for an episode of "Bunny Busters?!"
How about some "Top Bun?!"
Honestly, this one doesn't even look fake. It looks like the original fucking photo.
Now, these are ALL great... but this GIF might just be the best edit. "Breaking Bad" or "Badass Bunny?"
If you're still not sold on why animals (and putting sunglasses on them) are awesome then you need to reevaluate your entire life, take a Photoshop class and dress up as the poop emoji for Halloween.
As for this aviator-wearing bunny rabbit, thanks for the smiles, little dude.
Keep killin' it!
Citations: Somebody Put Sunglasses On A Bunny And It Started An Epic Photoshop Battle (Bored Panda)