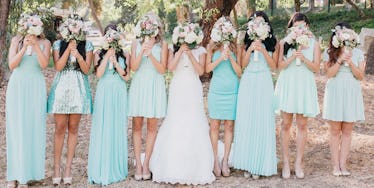 13 Bridesmaids Looks That Will Make Your Dream Wedding A Reality
Shutterstock
If a bride's wedding gown sets the vibe for the entire day, the bridesmaids' gowns are essential to capturing the overall look and tone you're aiming to accomplish.
There are so many fun details to consider, including length, colors, fabrics and styles. Also, it will be super important to know whether you want all of your bridesmaids to match in color and style, or if you want to mix it up a bit.
Keep in mind the venue and color of the décor in case you're taking indoor photos. Also, discuss what the groomsmen will wear as it may help your decision.
Your dress is going to be the statement of the big day so make sure that the bridesmaids' dresses complement your gown, not overpower it. Collectively, they should make a spectacular presentation for all to admire as you walk down the aisle.
Ultimately, brides, when you look for your wedding dress, it is wise to consider the overall plan for your wedding party. Do you want shabby chic? Elegant? Fancy? Boho? The choice is yours for the taking … so be creative and have fun with it.
For the bride's wedding that's all about glitz and glam, sequins are an amazing choice for your ladies to wear.
If you want your bridesmaids to match in color, different styles are always a fun way to go.
Having your bridesmaids all wear the exact same dress also looks incredible. Liquid dresses are really trending in the wedding scene right now.
And come on, what's more breathtaking than a midnight blue strapless wedding squad?
Going all-out rainbow for your bridesmaids can be very unique.
Boho garden weddings require a whimsical touch, bringing your bridesmaids together to resemble a summer bouquet.
Neutrals are classy and elegant. You can't go wrong with a neutral color palette this time of year.
Soft, flowy and peachy is extremely feminine and makes the prime statement for a city rooftop wedding, or even a beach wedding.
Bohemian-inspired themes are truly magical.
Lace overlays are perfect for a vintage look.
This greenish-grey color is simply stunning, especially with a variety of embellishments and necklines for each of your girls.
Of course, blush pink is always a major hit. The puddled hem on this style is unique and feminine.
This is your day. Go for what you love. Even if it's a "27 Dresses" vibe.