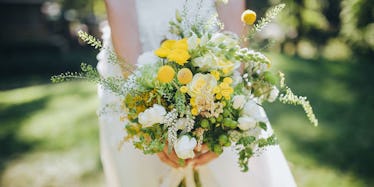 These Gorgeous Summer Wedding Bouquets Are Perfect For Your Big Day
Shutterstock
Everyone knows summer is one of the best times of year to tie the knot.
Between the beautiful, sunny weather and the laid back vibes, there are all sorts of things that make summer ceremonies seriously unforgettable.
However, one thing that really seems to make these warm-weather weddings always stand out is the spectacular flowers.
From bright, cheerful bunches of sunflowers to elegant arrangements filled with peonies, hydrangeas, wildflowers and everything in-between, it's no secret summer offers a wide selection of gorgeous seasonal blooms that make the perfect wedding bouquets.
If you're in need of a little inspiration for your own bridal bouquet, you'll be glad to know we set out to find a bunch of fabulous flower arrangements that are guaranteed to sweep you off your feet.
Seriously, these bouquets are so spectacular, you won't want to toss them over your shoulder at the end of the evening.
Take a look at the pictures below to see these gorgeous summer bridal bouquets.
There are so many choices when it comes to finding the perfect flowers for your summer wedding.
You can choose a stunning bouquet of succulents...
Some whimsical wildflowers...
A cheerful, yellow arrangement...
Some charming, purple flowers...
...or an elegant bunch of baby's breath.
Just look at these pastel petals...
This earthy, green arrangement...
This simple bouquet of seasonal blooms...
These brilliant blossoms...
This perfect mix of pink and white blossoms...
This rope-tied arrangement...
This heavenly bunch of hydrangeas...
...and this bold, bohemian bouquet.
You can't go wrong with some romantic white roses...
A bouquet with a little something blue...
Some beautiful, baby pink flowers...
A fiery arrangement...
Some eye-catching pompom accents...
...or blooming boa that's fabulous AF.