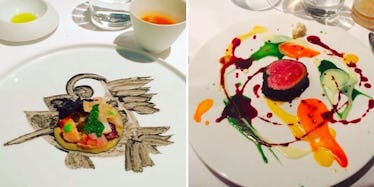 This Is Officially The Best Restaurant In The World And We're All Drooling
There are all sorts of restaurants that know a thing or two about dishing out some seriously impressive entrees. But have you ever wondered which restaurant is the best place to dine on the entire damn planet?
Well, thanks to The World's 50 Best Restaurants list, we now know.
The winners of this year's most elite eats were just unveiled, and Osteria Francescana, a renowned restaurant Modena, Italy, was just crowned as the number one restaurant in the world.
Chef Massimo Bottura was in New York to accept the prize for this great accomplishment, and it's not hard to see why his phenomenal Italian eatery earned this esteemed title.
Between the impeccable service, unique menu and detailed entrees that could basically double as delicious works of art, it's clear that Bottura runs a tight ship at Osteria Francescana, resulting in a world-class restaurant that offers a fine dining experience unlike anything you've ever seen before.
Check out the pictures for a closer look at this incredible restaurant:
The winner of The World's 50 Best Restaurants was just unveiled...
...and this year, Osteria Francescana in Modena, Italy snagged the number one spot.
Chef Massimo Bottura accepted the prize...
...and it's not hard to see why his restaurant is this year's reigning champ.
On the other side of this unsuspecting door...
...is a fine dining experience unlike any other.
Just look at the meaty work of modern art...
This fabulous AF fish soup...
This "five ages of Parmigiano-Reggiano" entree...
This stunning Caesar salad fit for a king...
This camo confection...
This crab that makes dreams come true...
This precious row of little pigs...
This MoMA-worthy meal...
...and this pasta that belongs on a pedestal.
Seriously, is this real life?
Shut up and take my money.
If you're wondering which other restaurants made the cut...
#50BestRestaurants 1. Osteria Francescana (Modena, Italy) 2. El Celler de Can Roca (Girona, Spain) 3. Eleven Madison Park (New York City) — SHK Consulting (@SHKConsulting) June 14, 2016
You can see the complete list of winners...
#50BestRestaurants 4. Central (Lima) 5. Noma (Copenhagen) 6. Mirazur (Menton, France) — SHK Consulting (@SHKConsulting) June 14, 2016
#50BestRestaurants 7. Mugaritz (San Sebastian, Spain) 8. Narisawa (Tokyo, Japan) 9. Steirereck (Vienna) — SHK Consulting (@SHKConsulting) June 14, 2016
Citations: Italy now has the best restaurant in the world (Twitter)