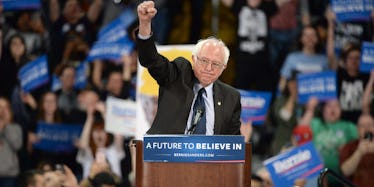 Bernie Sanders Supporters Organize A Massive $4.20 Donation Push On 420
Shutterstock
While supporters of presidential candidate Bernie Sanders have lost track of how many times they've heard his oft-touted figure of $27 — the average donation to Sanders' campaign — the marijuana-minded vote is looking to alter that average, if only for one day.
With cannabis holiday 420 quickly approaching, some Sanders supporters have started an online campaign, encouraging others to donate $4.20 (or $42 or $420) to Sanders' war chest on April 20 to "send a message to the establishment that alone, we're harmless bees, but together, we're a ferocious swarm that will not be silenced."
Many legalization activists have attached themselves to Sanders in part because of his cannabis platform, which would involve the drug being completely removed from the federal government's list of the most dangerous drugs.
"Too many Americans have seen their lives destroyed because they have criminal records as a result of marijuana use," Sanders said in October 2015. "That's wrong. That has got to change."
While Sanders wants marijuana completely de-scheduled, Democratic opponent Hillary Clinton supports its rescheduling.
"We haven't done research, why? Because it's considered a Schedule I drug," Clinton said in November 2015. "I'd like to move it from Schedule I to Schedule II."
Removing cannabis from the the federal list of controlled substances has become an increasingly familiar talking point for Sanders.
And that has been enough to bring together a sizable push for Sanders' campaign among 420-friendly voters — including the organizers behind the "Donate $4.20 to Bernie Sanders on 4/20" Facebook group. On the social media page, a post reads,
Bernie has called for the federal decriminalization of marijuana and an end to the failed war on drugs, which has for many years disproportionately targeted minorities and low-income communities. No other presidential candidate has done the same. So, we urge all cannabis reformers, activists, patients, enthusiasts entrepreneurs, advocates and professionals to donate $4.20 (or $42 or $420) to Bernie Sanders' campaign on April 20th, 2016. Let's make this YUUUGE and send a message to the establishment that alone we're harmless bees but together we're a ferocious swarm that will not be silenced! Please join the event and invite your fellow cannabis supporters, friends and family. Go!
The campaign has its suggested hashtags, of course — #BernGreenGiveGreen, #BurnOneForBernie, #YesHeCann — and a link to the Facebook group, Cannabis Reformers for Bernie, with its slogan, "Putting the grass in grassroots!"
This post was originally written by Ricardo Baca for The Cannabist.
Citations: Bernie Sanders supporters organize massive $4.20 donation push on 4/20 (The Cannabist)