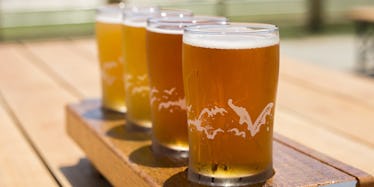 7 Refreshing Beers That Are Perfect For Welcoming In The Warm Weather
Shutterstock
Based on the number of impossibly pale legs I've encountered while walking down the street over the past week, it would appear people have already started getting into a warmer state of mind (and, if they're like me, regretting basically every decision they made this winter).
As someone who frequently used the temperature to avoid doing most things that involved getting off my couch over the past few months, it will actually be nice to have some motivation to leave my apartment and act like a real person again.
It's truly amazing how a change in temperature can change your outlook on life -- it was "sad" and "a potential red flag" when I decided to drink all day on a Saturday during the winter, but if I do the same thing on a rooftop I can just say, "I'm enjoying the warm weather."
It's the perfect crime.
My drink of choice during the winter tended to be "whatever beer has the most alcohol in it," but I've learned that isn't the best strategy if you're trying to avoid waking up in a chair with a sunburn you didn't have when you went to sleep.
Thankfully, years of experience have also taught me which beers are best if you're looking to celebrate the warm weather with more than just a drink or two.
Here are some of the best widely-available options (and a couple limited brews that are worth tracking down).
Founders All Day IPA
I eagerly await the launch of Founders' boozy bourbon barrel-aged KBS each year, but a stout with an ABV in the double digits isn't the best option if you're trying to avoid passing out on a bar patio.
If I had to pick one beer to drink all summer, it would be the aptly named All Day, which delivers the flavor you'd expect from a fairly full-bodied IPA with only about as much alcohol (4.7 percent) as a light beer.
The best part is it's sold in cases of 15 cans, which makes it perfect for splitting with others (or one other, or maybe even no others depending on how ambitious you're feeling).
Bell's Oberon
It might not be able to match Founders' output, but Bell's is one of the major heavyweights in the Michigan craft beer scene -- its Two Hearted IPA is probably one of the best widely-available beers on the market.
However, if you're looking for a slightly different style, I'd suggest checking out Oberon, a seasonal wheat beer sitting at just under 6 percent. It's smooth and crisp with a slightly spicy flavor profile that makes it ideal for drinking in the spring.
Narragansett Del's Shandy
I grew up near the Rhode Island shore, and one of my favorite summer traditions was stopping for a Del's Frozen Lemonade on the way back from the beach to put a refreshing cap on a summer day.
The good people at Narragansett have done the world a favor by combining my favorite cheap lager with Del's concentrate to give us a shandy that's been my official drink of summer for the past few years.
If you really want to enjoy it, make sure to drink it cold -- and if you really, really want to enjoy it, I've found adding a shot of vodka doesn't hurt.
Oskar Blues Mama's Little Yella Pils
I'm not usually a huge fan of pilsners, but there are certain times (like after three hours in the sun) when nothing tastes better than the incredibly clear and crisp taste that traditionally comes with this style of lager.
The addition of hops to the malt base elevates Little Yella Pils above some of the more commonly available pilsners and, unlike the pill that inspired the name, its 5.3 percent alcohol content probably won't put you in too much of a daze.
Firestone Walker Easy Jack
You might be familiar with Union Jack, a phenomenally balanced West Coast IPA from Firestone Walker I've seen popping up in more and more bars.
However, if you want to sacrifice some of the booziness without losing a lot of the flavor, you really can't go wrong with Easy Jack. It's an incredibly drinkable session ale that contains less alcohol (4.2 percent) than any other beer on this list.
Sixpoint Jammer
A word of warning: This is a weird beer -- it's a goose, which is a sour beer brewed with salt that tastes almost exactly how you'd expect based on that description.
I had it for the first time last year, and even though it wouldn't be my first choice, there was something about the unique taste that kept me coming back for another sip (despite how much my lips puckered).
On the plus side, it's only 4 percent. And if you bring it to a party, it's a virtual guarantee you won't have to worry about other people drinking your beer.
Whichever cheap beer you prefer.
Although all the beers I've listed so far fall under the "craft" label, I don't want people to think there's anything wrong with picking up a pack of whichever mass-market lager your taste buds have decided is the least offensive.
If you've decided your perfect Saturday involves seeing how long it takes you to finish the 12 pack of Modelo you brought with you to the darty, I'm not going to try to change your mind -- sometimes "bad" beer is the best thing in the world.