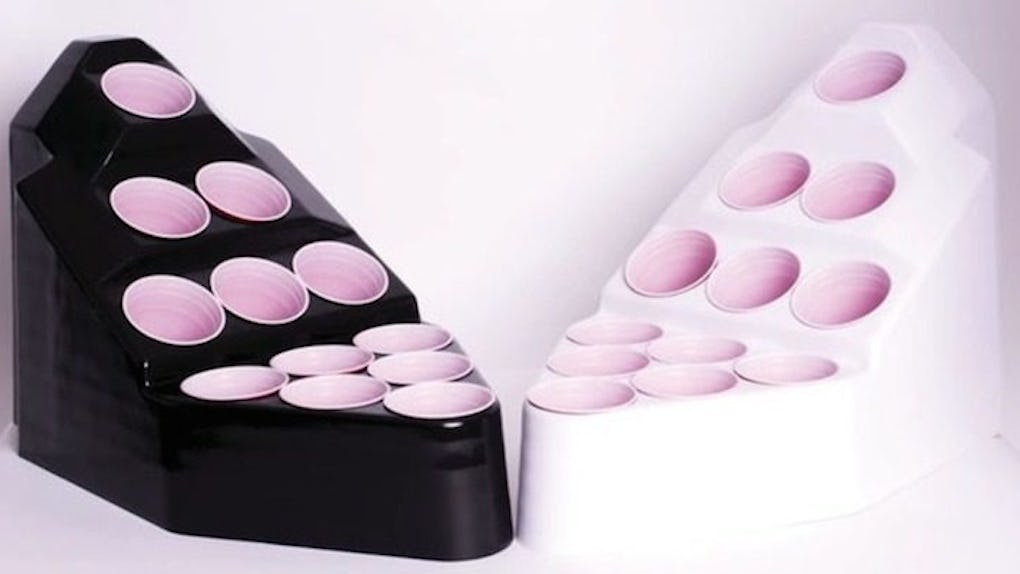 Kickstarter
This Genius Beer Pong 'Mountain' Is Every Partier's Dream Come True (Photos)
Be honest. When was the last time you played beer pong?
It's OK to say, "I can't remember." And if you can remember, you probably haven't played it like this.
In a recent video uploaded to YouTube, we're introduced to Mountain Pong, an elevated contraption reinventing the game of beer pong.
Mountain Pong features the traditional six-cup setup, but a platform elevating an additional six cups sits behind it.
Aside from adding extra difficulty to the game, Mountain Pong also prevents cups from tipping over and spilling.
A Kickstarter campaign created to fund the project will be the primary factor in whether or not we can look forward to playing a game of elevated beer pong in the near future!
Mountain Pong reached more than half of its goal, and there are still 23 days to go.
At this rate, you'll be playing Mountain Pong with your grandpa on Thanksgiving!
Check out the photos and video below for a closer look.
At first sight, you might think this is the traditional setup of a beer pong game. A closer look reveals it's beer pong with a twist.
It's called Mountain Pong, and it makes a classic game of beer pong a whole lot more challenging!
As of right now, the design is still in its conceptual stages. After opening a Kickstarter account with an intended fundraising goal of $30,000, Mountain Pong already managed to raise more than half with nearly $15,600.
Check out the video below for a closer look:
Citations: Mountain Pong raises beer pong to new heights (Mashable)