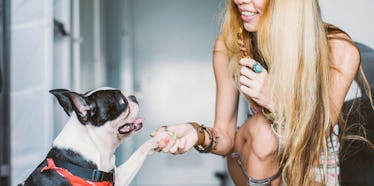 A Tinder For Dog-Borrowing Is Here To Cure Your Lonely, Dogless Life
If you've ever been the type to stalk dog parks because you dream of having a little buddy of your own someday, you're not alone. Between lease restrictions, too little time and simply not having the means to adopt a dog, there are often too many hurdles for dog lovers to take the plunge.
But thanks to Bark'N'Borrow, an app the New York Times dubbed the Tinder for dog-borrowing, you can meet up with all kinds of dogs, owners and sitters to fulfill all your dog-loving needs. Through the app, dog owners can connect with reputable sitters in the area while sitters can promote their businesses. And borrowers can hang out with dogs who might need a little more people time. It's a win-win for everyone involved.
And as of Thursday, you can swipe for shelter dogs from NKLA (No-Kill Los Angeles) Adoption Center. Run by Best Friends Animal Society in conjunction with Bark'N'Borrow, the organization hopes to promote available shelter dogs to the app's audience of 50,000 dog lovers.
Through the app, you can find adorable shelter pups like Cowboy.
Or Paloma...
Or maybe Sir Buddy strikes your fancy.
While swiping, users can see whether a dog is available to borrow or adopt. From there, you can contact a shelter representative to get in touch, set up a doggy date and find out if you're a perfect match. Never before has adopting a dog been this easy or tech-savvy.
This dog-finding technology comes at just the right time, as 85 percent of the respondents in one recent Bark'N'Borrow survey said they'd definitely get their first or next dog from a shelter. Liam Berkeley, CEO and founder of Bark'N'Borrow, said recently in a press release,
There are nearly 4 million homeless dogs in shelters across the U.S. who are in desperate need of care and a permanent home. We're excited to work with NKLA to bring more attention to their adoptable dogs and to offer our users the ability to meet these incredible animals with the goal of long-term adoptions.
And if you're still on the fence about adopting a pup of your own, Berkeley recommends you play the field a little, saying,
A lot of our users are currently waiting to find the right kind of dog to adopt, and in the meantime are excited to borrow to see which breed suits their lifestyle.
With so many cute pooches to choose from, though, it likely won't take you long to find "the one."
Download Bark'N'Borrow for free in the iTunes Store and for more information visit www.barknborrow.com.