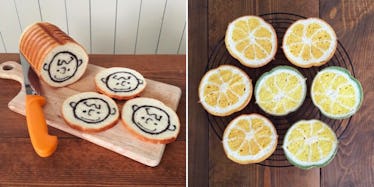 This Baker's Awesome Bread Artwork Will Make You Wish You Weren't Gluten-Free
Sure, staring at paintings can be pretty cool and all. But you know what's an even better way to satisfy your hunger for artistic inspiration? Drooling over some artwork that doubles as a delicious snack, of course.
Yep, if you happen to be a fan of eye-catching culinary creations, you might want to brace yourself. We just came across one of the greatest food invention since sliced bread.
Literally.
Konel Bread is a talented baker from Japan that has mastered the art of making some eye-catching food art out of bread.
Her loaves may look like your run-of-the-mill bread from the outside. But concealed beneath the crust of each loaf you'll find all sorts of insane designs that become visible once you cut the bread into slices.
Konel Bread posts photos and videos of her carb-loaded creations on her impressive Instagram account and so far, she's managed to make everything from leopard print loaves to white bread clad in whimsical cartoon characters.
Check out the pictures below for a closer look at her mind-blowing baked goods.
When it comes to whipping up some impressive artwork...
Konel Bread is one Japanese baker who prefers to go against the grain...
By using bread as a blank canvas...
To create all sorts of droolworthy designs.
From the outside, these loaves may look like your ordinary homemade bread...
But once you slice up these bad boys...
You quickly discover some stunning designs concealed beneath the inconspicuous crust.
Apparently, these delectable works of art are created by arranging different colored doughs in long tubes...
That expand into the desired shape as the bread bakes to perfection.
So far, we've seen her turn carbs into charming cartoon characters...
Bake adorable animals into her baguettes...
Whip up some gluten-filled confections filled with flowers...
Add some leopard print to her pastries...
And slice up some loaves that look like lovely little lemons.
I mean seriously, who knew carbs could be cute AF?
Citations: Japanese baker makes adorable works of art in each loaf (Mashable)