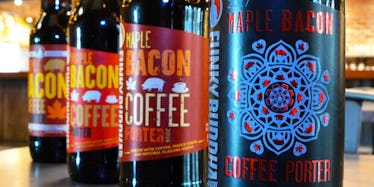 Bacon-Flavored Breakfast Beer Is Only Way To Justify Getting Drunk Before Noon
Funky Buddha
Drinking beer for breakfast is typically frowned upon unless you're curing a hangover from the night before -- don't lie, I know you've done it.
Luckily, we have a new reason to indulge in a cold brew for breakfast because bacon-flavored beer exists.
Suddenly, I've become a morning person.
It's true: A new bacon-flavored beer is on the market for booze-lovers, and it's giving us a legitimate reason to drink before lunchtime.
The popular new brew is called the Maple Bacon Coffee Porter by Funky Buddha Brewery, and it sounds savory AF.
The beer's fragrant description on the brewery's website is enough to send you into a breakfast frenzy. Trust me, you'll be craving loads of bacon and pancakes smothered in maple syrup with a side of steamy coffee.
Describing the beer, the site says,
Aromas of sticky maple syrup, coffee, and cream creep forth from the glass. The mouth feel is luxuriously creamy, with layers of sweet malt, toffee, and roast giving way to waves of smoke, coffee and salted chocolate.
The porter is basically breakfast in a bottle, and it's about to become a part of my daily morning routine.
If you're also into the whole "beer for breakfast" idea, then you should take a look at a few more flavors and decide which breakfast beer best fits your early morning cravings.
If you wish to indulge in a beer that tastes like coffee, you should try Laguinita's Cappucino Stout.
Really, any coffee-flavored beer is freakin' delicious.
If you're not a coffee person and would rather start your morning on a "healthier" note with a grapefruit kickstart, try out the Grapefruit Sculpin by Ballast Point.
For all the cereal-lovers out there who prefer a simpler approach when it comes to breakfast, try the Saturday Morning Cartoons Breakfast Cereal Milk Stout by Brew Rebellion.
I mean, everyone loves a bowl of cereal -- especially in beer form.
Another breakfast beer that's sure to fill you up with the taste of chocolate, oats and coffee is Founder's Breakfast Stout (one of my favs).
I swear, it's smoother than a fresh cup o' joe.
As you can see, breakfast beer is basically becoming its own tier in the food pyramid, and you need to try it out when you have a free morning.
Cheers!