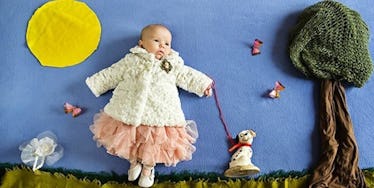 Babies Dressed From The Roaring 20s Is The Cutest Thing Ever (Photos)
Neli Prahova
Neli Prahova, a photographer based out of London, just gave us the most adorable combination of 2015: babies dressed like they're from the roaring 20s.
Prahova decided to combine her love for "Downton Abbey" with her keen talent for portraits, and we can't thank her enough for making our weekend.
Who would have thought such a flippy and chic style could ever be so delightfully precious?
 Hurry, Jeevs, I'll be late to the party!
It's a lovely day for a fur stole and a bike ride.
It's rather hard being this fabulous.
I should ring up my pals, I look too amazing not to be seen today.
I'm so very wiped out. I think I should have a lie down. Call me for tea time!
Wear pearls or nothing at all.
Nothing relaxes me more than a cup of tea and good novel.
Crinoline and puppies have always been a swell combination.
I brush my bald head 30 times a day so I might grow luscious locks.