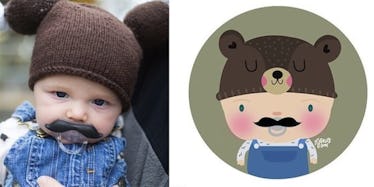 Artist Transforms Photos Of Kids Into Adorable Cartoon Illustrations (Photos)
Maria Jose Da Luz
There's nothing more innocent and adorable than a child.
Therefore, it's not surprising that parents usually take tons of baby pictures in an attempt to freeze the cuteness of their little one into a photograph.
Maria Jose Da Luz, however, takes preserving childhood memories to a whole new level of adorable.
As a talented artist, Jose Da Luz is no stranger to drawing up all sorts of incredible illustrations.
But recently, this Costa Rica-based illustrator set her sights on something a bit smaller: cute little kids.
In her latest project, Maria set out to put an imaginative spin on a bunch of baby pictures by creating a series of charming childhood illustrations.
All of her whimsical works of art are actually inspired by real pictures, and there's no denying these creative drawings are just as cute as the kids in the original photos.
Whether her creative pictures turn swing sets into sky-high adventures or playtime with dad into a superhero-packed scene, all of Jose Da Luz's illustrations are pretty amazing.
Take a look at the photos below to see these adorable illustrations.
Maria Jose Da Luz transforms ordinary baby pictures...
...into awesome works of art.
These BFFs look even cuter as colorful characters.
It's the princess and the frog.
Nothing beats cuddling with your furry bestie.
Here's a baby "Litte Red Riding Hood."
Watch out, this baby is burning rubber!
She's a grumpy baby bee.
Every superhero needs a little action during playtime.
He's a little brown bear.
This snuggly illustration is just as adorable as the original.
Batman has nothing on this Monster Batbaby.
This whimsical work of art takes swinging to a sky-high level.
Who needs a snow angel when you have an adorable snow bear?
 This baby has some serious style.
Just another outdoor adventure.
Santa baby.