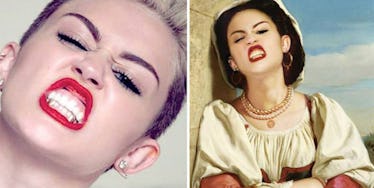 Artist Cleverly Places Pop Culture Icons Into Famous Paintings (Photos)
Sure, we've all seen our favorite celebs in movies, magazines and on the red carpet.
But have you ever wondered what Hollywood's biggest stars would like look if they'd been around back in the day when the only way to capture someone's image was to paint a portrait of them?
Thanks to Bénédicte Lacroix, you no longer have to wonder.
This French graphic designer recently created a time-traveling visual series called Voyages Dans Le Temps.
Her compelling series gives modern-day celebrities old school makeovers by merging them with famous paintings from the past.
Her vintage renditions include everything from The Little Mermaid to Michael Jackson, and these thought-provoking portraits will give you a whole new appreciation for fine art.
Angelina Jolie Pitt
Daft Punk
Emma Watson
Gérard Depardieu
Gollum
Jack Nicholson
Johnny Depp
Julia Roberts
Leonardo DiCaprio
Michael Jackson
Miley Cyrus
Minion from "Despicable Me"
Neil Patrick Harris
Roger Federer
Rowan Atkinson
Ryan Gosling
Steve Jobs
The Little Mermaid
Yoda
Jim Parsons
Citations: Historical Paintings Merged With Modern Celebrities By Bu00e9nu00e9dicte Lacroix (Bored Panda)