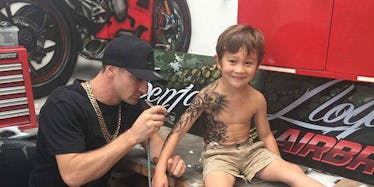 Amazing Artist Is Visiting Hospitals To Give Sick Kids Free Temporary Tattoos
Sometimes, all it takes is a small act of kindness to make a big difference in someone's life.
Case in point: Benjamin Lloyd.
Lloyd is an artist from New Zealand who has spent the past 10 years creating airbrush art, and he recently began to experiment with painted tattoos as well.
While Lloyd typically does painted tattoos for adults, he recently made an announcement on social media he would give the kids at Starship Children's Hospital in Auckland, New Zealand temporary tattoos if the post received 50 likes.
Well, it turns out Lloyd got those 50 likes, plus, you know, another 424,000 reactions and counting.
Yep, after receiving an overwhelming response from the Internet, Lloyd made it his mission to bring smiles to the faces of the sick kids at Starship Children's Hospital by promising to tat up the patients with his temporary ink.
Lloyd wrote on Facebook,
Nothing brings me more joy than boosting a kids confidence with a custom tattoo.
In addition to being temporary, all of Lloyd's tattoos use organic, non-toxic ink, so they're perfectly safe for kids.
However, there is one downside to these awesome airbrush tats. According to BoredPanda, the kids don't want to shower afterward!
But hey, these things looks pretty badass, so you can't really blame the kids, right?
There's no official word yet on when this hospital tattooing event will take place, but you can check out some of Lloyd's kid-friendly tattoos in the meantime.
These may look like little kids with some insane tattoos...
...but don't let their epic sleeves fool you. They're just temporary tattoos created by New Zealand-based artist Benjamin Lloyd.
Lloyd recently came up with the idea to bring his kid-friendly tats to those in need of a little cheer, promising to give the kids of Starship Children's Hospital some free tattoos if his post received 50 likes.
However, instead of 50 likes, Lloyd actually received more than 424,000 reactions from Facebook users.
Now, this man is on a mission to make his temporary tattoos for a good cause come true...
...and he pledged to draw some awesome designs on the kids at Starship whenever the hospital is ready to have him come.
In addition to looking seriously badass, Lloyd's temporary tats are perfectly safe for kids and even use non-toxic ink.
Based on the smiles from these kids, it's not hard to see Lloyd's upcoming tattoo marathon is going to make a lot of sick children very happy.
Citations: Artist Gives Sick Kids Awesome Tattoos To Make Life In Hospital More Fun (BoredPanda)