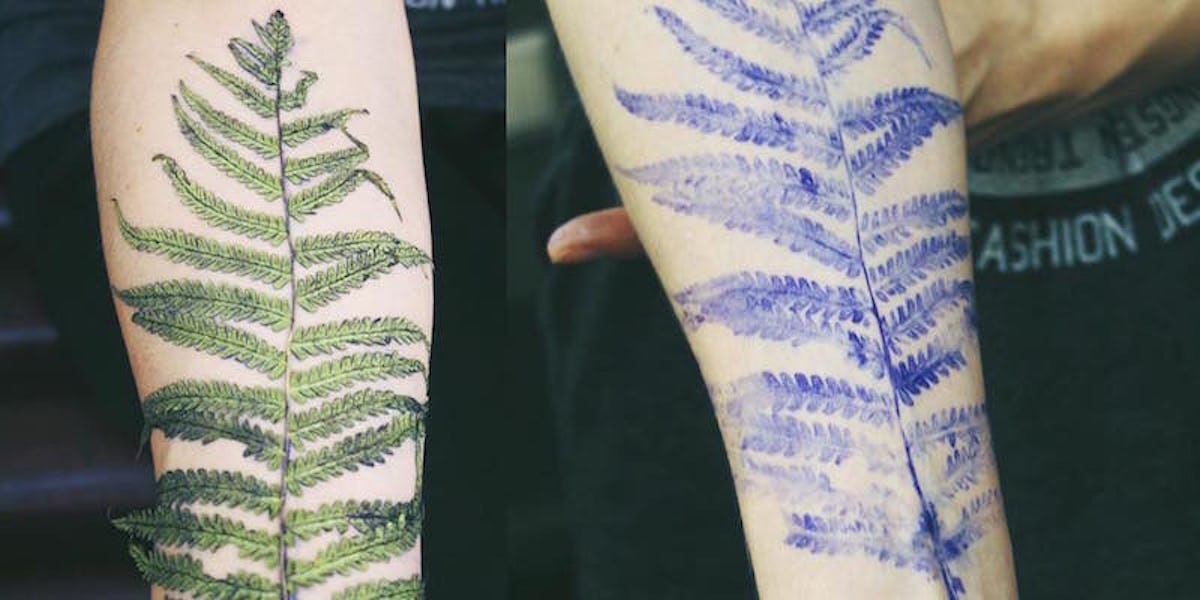 These Incredibly Beautiful Tattoos Are Made Using Real Leaves And Flowers
There's no shortage of insanely gorgeous tattoos to lust over on Instagram.
But when it comes to creating some eye-catching ink inspired by Mother Nature, no one does it better than Rita Zolotukhina.
Zolotukhina, who goes by the name rit.kit on Instagram, is a talented tattoo artist from Ukraine who uses a variety of living flora to decorate people's skin in all sorts of stunning inky designs.
She uses a unique method to draw out her beautiful botanical body art.
First, Zolotukhina takes a flower or leaf and submerges it in stencil ink. Then, she delicately presses it against her client's skin to create an impression, and lastly, she traces over the print in tattoo ink.
Zolotukhina posts her botanical body art on her Instagram account, and so far, she's mastered everything from watercolor willow branches and super-realistic fern leaves to budding blades of grass and fabulous garden flowers.
This gifted gal has already managed to rack up over 13,400 followers on her Instagram account, and it's not hard to see why.
All of Zolotukhina's nature-inspired designs are by no means ordinary, and the tattoos are simply stunning, to say the least.
Take a look at the pictures below to see this amazing body art.
Rita Zolotukhina is a tattoo artist from Ukraine...
...who creates all sorts of watercolor tattoos inspired by nature.
She uses a variety of living plants...
...to deck her client's skin out in truly unique designs.
First, Zolotukhina takes a flower or leaf and covers it in stencil ink.
Next, she carefully makes an impression of the plant on her client's skin...
...and then gets to work tracing over the leaf print with a tattoo gun.
So far, Zolotukhina has conquered everything from pretty flower petals...
And brilliant blooms...
...to a wide array of gorgeous garden scenes.
All of her tattoos look absolutely incredible...
...and there's no denying Mother Nature would definitely approve of these dreamy designs.
Citations: This artist uses real leaves and flowers to create stunning nature-inspired tattoos (Metro UK)