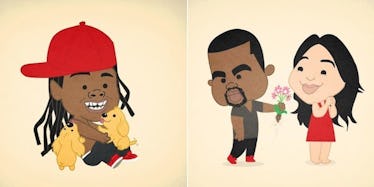 Artist Creates Absolutely Spot-On Illustrations Of Famous Rappers
If you're a fan of hip-hop, then chances are you know the lyrics to countless rap songs.
But, have you ever stopped to ponder what the words to all of your favorite songs would look like in real life?
Thanks to one graphic designer named Ali Graham, you no longer have to wonder.
For his latest project, Graham created a hilarious Tumblr account called Lil' Ye and the Hip Hop Hoorays, and it features a variety of hilarious illustrations inspired by hip-hop.
If the Kanye and Jay Z renderings alone aren't enough to make you laugh, you'll be glad to know Graham also brings each rapper's lyrics to life by pairing whimsical cartoons with clever songs and album titles.
Take a look at the pictures below to see Graham's awesome illustrations.
"I drink a Boost for breakfast"
"Jay is chilling, Ye is chilling"
"That sh*t cray"
"...Write my curses in cursive"
"Ball so hard"
 "Your chick, she so thirsty"
"If you're reading this, it's too late"
"How could you be so heartless?"
"IDFWU"
"Snoop Doggy Dogg and Dr. Dre is at the door"
"Primetime"
"Run This Town"
"My anaconda don't want none unless you got buns, hun"
"Long as my bitches love me"
"Blessings"
"To Pimp A Butterfly"
"So goodnight, cruel world, I'll see you in the morning"
"Rollin' down the street..."
"Cherry Bomb"
"Bound to fall in love"
Citations: u201cLilu2019 Ye & The Hip Hop Hooraysu201d u2013 Daily Illustrations by Ali Graham (Whudat)