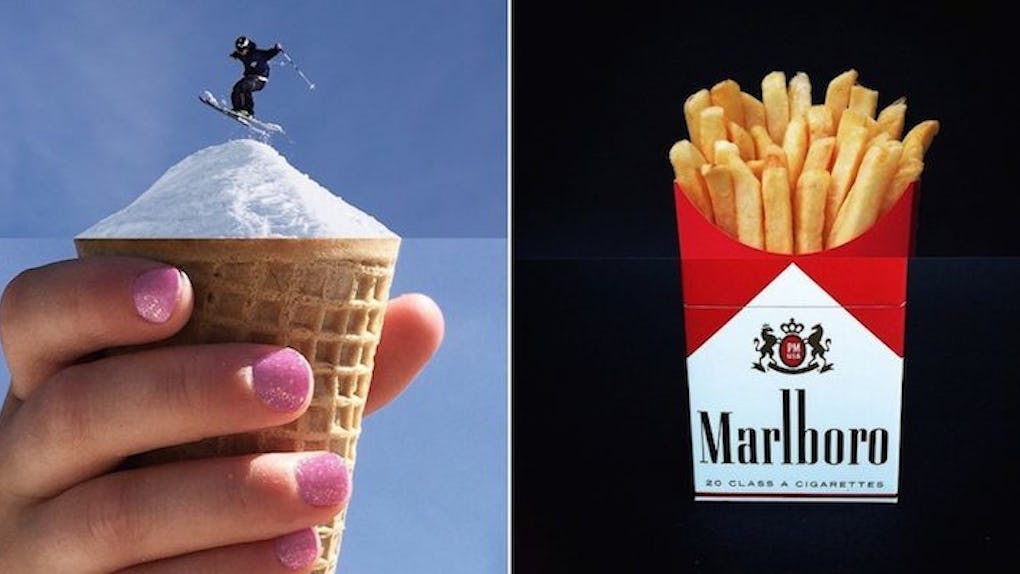 Stephen McMennamy
Artist Combines Completely Different Photos To Make An Awesome Series
Looking for creative inspiration? You might want to start scouring Instagram.
We recently came across the work of Stephen McMennamy, an artist whose Instagram biography simply states he likes to "combine photos."
In fact, since he merges photos to create vivid, ironic images so much, he has his own hashtag, #ComboPhotos.
By just searching that hashtag on Instagram, you'll come across most of his work, and you'll see many of the photos average about 2,000 likes on the social media platform.
In addition to likes, McMennamy managed to rack up close to 28,000 followers.
I mean, who wouldn't want some good old creativity speckled into his or her Instagram feed?!
Check out the photos below for a closer look.
Helmet + Turtle
Giant Pipe + Pad Lock
French Fries + Cigarettes
Winter + Summer
Umbrella + Wildflower Stem
Tomato + Boxing Glove
Peanut + Excavator
Fruit Loops + Dump Truck
Meatball + Forklift
Chainsaw + Butter
Excavator + Ice Cream
Ferris Wheel + Bike Wheel
Cup with Straw + Water Tower
Spray Paint + Fire Hydrant
Roller Skates + Caterpillar Track
Surfboard + Knife
Citations: Artist Splits Photos And Combines the Results (Art Fido)