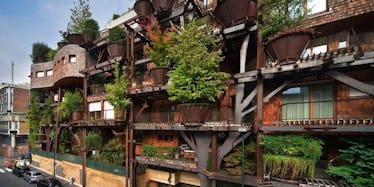 This Treehouse Apartment Complex Protects Residents From Pollution And Noise
As kids, nothing was more fun than hanging out in that rickety treehouse your dad helped you build in the backyard.
But, when you're strolling down a city sidewalk, the last thing you'd probably expect to see is a giant treehouse sitting at the end of a block -- unless, of course, you happen to be standing in from of 25 Verde in Turin, Italy.
Recently, the talented Luciano Pia transformed an ordinary five-story urban building into an awesome treehouse surrounded by an elevated forest of potted plants.
This urban treehouse features 63 units, terraces and an assortment of native plant species chosen based on color, foliage and blooming schedule to ensure this building looks badass all year.
But, this treehouse has more to it than its seriously awesome appearance; it also boasts a variety of functional benefits.
Thanks to the fact this building is decked out in 150 trees that can absorb upward of 200,000 liters of carbon dioxide each hour, the innovative design of 25 Verde fends off pollution.
In addition to protecting its inhabitants from harmful gasses caused by car exhaust, this foliage-packed facade eliminates a great deal of that annoying noise from the busy surrounding city.
The trees encompassing this residential building also create a microclimate inside the apartments, thus moderating seasonal temperature extremes by blocking out the sun's sizzling rays in the summer and letting warm light in during the winter.
Take a look at 25 Verde in Turin, Italy.
This isn't your ordinary five-story apartment complex.
It's an urban treehouse...
...surrounded by a "vertical forest" of 150 potted trees.
This foliage-filled facade protects its residents from air pollution...
...and blocks out noise from the surrounding city.
Plus, it even creates a temperature regulated microclimate inside of the building.
Here's the blueprint of this ingenious treehouse.
Citations: Vertical Forest: An Urban Treehouse That Protect Residents from Air and Noise Pollution (Colossal )