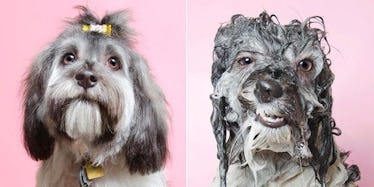 These Super Adorable Photos Of Wet Dogs Are Guaranteed To Make Your Day
Hands down, dogs are some of the cutest creatures on Earth. Until you get them wet that is.
Have you ever noticed how most dogs hate getting baths?
Well, I think I finally know why. It's because bath time basically turns your beautiful, fluffy BFF into a hilarious, real-life version of a gremlin.
Yep, when dogs get soaked, hair struggles are certainly real, so you can't help but almost feel bad for these little guys.
Recently, Sophie Gamand set out to capture this funny phenomenon by photographing all sorts of water-logged pups for her new book fittingly titled "Wet Dog."
Gamand told Huffington Post,
Photographing dogs during bath time allowed me to capture the wide range of expressions they have. I wonder: Have they acquired human expressions after living with us for so long?
Gamand's "Wet Dog" photo book is available in stores and online, and you can also check out some of her adorable work on Instagram.
It's all fun and games until it comes time for a bath.
For her latest project, Sophie Gamand set out to capture all sorts of soaked little pups...
...for a new book titled "Wet Dog."
She captures all sorts of different-looking dogs from little gremlins...
And dripping dogs with sad, droopy faces...
To hounds with spiky hair and confused faces.
It's not hard to see all of her water-logged dogs look absolutely hilarious...
...and, not to mention, downright adorable.
But her barking bath-time endeavors bring out sides of dogs...
...we rarely see when their furs are dry.
Her photos showcase all sorts of unique expressions...
...letting the personalities of these pups really shine through.
However, Gamand's work has a deeper meaning than just capturing dogs at moments of water-logged weakness.
She told Huffington Post, "I find wet dogs funny, yes, but mostly incredibly touching. There is something deeper and more poignant happening with these portraits. When we laugh in front of a miserable wet dog, aren't we also feeling some kind of guilt?"
Gamand hopes her work will change the way people perceive pets (while giving us all a good laugh, of course).
Citations: Adorable Photos Of Wet Dogs Will Make You Ponder The Meaning Of Bath Time (Huffington Post)