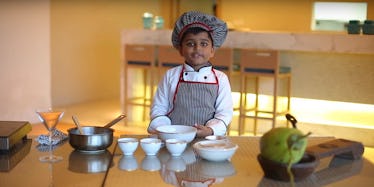 This 6-Year-Old Chef Made An Insane Amount Of Money For His YouTube Video
YouTube
Looking for your daily dose of WTF? Well, have I got news for you.
One little boy named Nihal Raj, aka "Kicha," made $2,000 after Facebook paid him to acquire the rights to one of his ice cream videos on YouTube. That's what some people make in an entire month.
In an interview with Mashable, one Facebook spokesperson said,
People on Facebook are constantly doing and sharing incredible things. In a recent brand promotional campaign, we wanted to celebrate examples of the rich and dynamic ways people are using the platform. When we came across the public post featuring Nihal Raj cooking, the video felt like a great fit and we were delighted he and his parents agreed to participate.
Damn, you're probably thinking, that video must be amazing, right? I mean, yeah, he's pretty freaking adorable and I have a sudden craving for mango ice cream so I guess Facebook is on to something.
If you think your jealous ego can handle it, go ahead and watch the $2,000 video of Nihal Raj making ice cream above.
Citations: This adorable 6-year-old 'chef' got $2,000 from Facebook for his ice-cream video (Mashable)