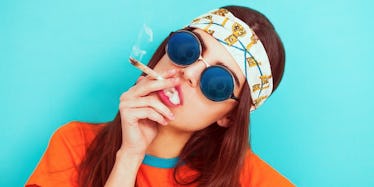 6 Ways For Every Stoner To Get The Most Out Of The Coachella Experience
Shutterstock
The biggest music and art festival in the US, Coachella, is quickly approaching, and the team over at Stoned Girls is super stoked to get out and begin the festivities.
Before you pack your bag and roll a blunt, let us give you a few tips we've learned over the years.
Sample the music before you go.
With a lineup including Miike Snow, Ice Cube, Edward Sharpe and the Magnetic Zeros, CHVRCHES and many more, there will be time to check out acts you have not seen before.
Why not? You paid for it.
Being high will open your mind to new things, and you may be surprised to find your new favorite band while there. Ask your friends and festie neighbors who they're most excited about seeing, then go catch a few sets with them.
Even if it's not something you'd normally be listening to at home, experiencing a new band in a setting like Coachella is an experience you need to have.
Check out the art.
Coachella features many different types of interactive art exhibits that are visually stimulating to the stoned eye.
Last year's festival saw balloon chains, giant caterpillars and shrines to Big Horn Sheep comprised of re-purposed materials. This year, be on the lookout for world-renowned performance collective Lucient Dossier, if you're into stunning aerial displays and fire shows.
Not to mention, all of the art is intensified when it gets dark (and after enjoying a joint or an edible).
The DoLab stage is a must-see for first-timers and seasoned Coachella-goers alike. Not only do you get to just listen to your favorite artists, but also experience them on a whole other level with these interactive and dazzling installations.
Bring lots of water and sunscreen.
One thing to remember is that you will be partying in the desert. It gets hot; it's dry, and you need to be careful.
Just a little bit of preparation will go a long way towards enjoying your time at Coachella. Make sure you're staying hydrated and using sunscreen, especially with the sunny California desert reaching 100 degrees-plus.
Every stoner knows a good joint sesh often comes with a bout of cotton mouth, so having your own refillable plastic (no glass or metal) water bottle or CamelBak will be a lifesaver.
Look out for the festival girls, aka "kush kittens."
Who doesn't love a stoned festival girl?
Coachella will be crawling with lovely kush kittens in their most revealing, festival-worthy attire. You can expect to see plenty of bathing suits as tops, high-waisted jorts and 60's-inspired hippie threads.
Just let the bands play and watch them frolic in the sun.
If you are one of these lovely festival ladies, have fun, but don't forget you can't bring your hula hoop, glow sticks, LED gloves, stuffed animals or selfie sticks. Sorry 'bout it.
But hey, you can bring your eyedrops for the inevitable bloodshot peepers you'll be sporting.
Be inconspicuous about your consumption.
Remember, not everyone is down with smoking that good bud like you are, so it's important to be respectful of those who don't partake, as well as the authority figures around you.
Being a responsible stoner is very "in" right now. Dugouts, medtainers, pre-rolled joints and smoke buddies will make the festival experience better for you and the people around you who don't abide.
Passing on the good vibes is what we are all about.
Don't overdo it on the very first day of the festival.
What separates the rookies from the pros is pace.
We recommend knowing your limits for your safety and for the safety of others enjoying the show. If this is your first time at a music festival, stick to what you know, like a shared joint or a few puffs of your one-hitter.
Leave the potent pot brownies out of the mix if you're unsure about your reaction to edibles.
Have fun and enjoy!
This post was originally written by Rebecca Hourselt for Stoned Girls.
Citations: 6 Ways You Can Make The Most Out Of Coachella (Stoned Girls)